In this blog, we thought we would keep you "on the road" and "in the bush" with us if you have not been able to join one of our adventures. This will be added to as we go so feel free to save the link and to come back to it from time to time and also to share it with adventurers.
The magic about these adventures is not only photography. It's also about the places, the people, the happenings, the stories, some just plain funny, some a bit on the edgy side, mostly making great campfire stories. We will write mainly about our hosted adventures but will certainly include great snippets from our own family adventures and other adventures which we go on.
So far, by May in '21, we have been to 'berg 3 times, Pilanesburg, tested a Sony camera (check out our "in hand" chat on that one), judged a couple of competitions, met some interesting people, been to Zimanga, are about to hit Savanna and Djuma in Sabi Sand and Grietjie Nature Reserve, and begun our '22 planning.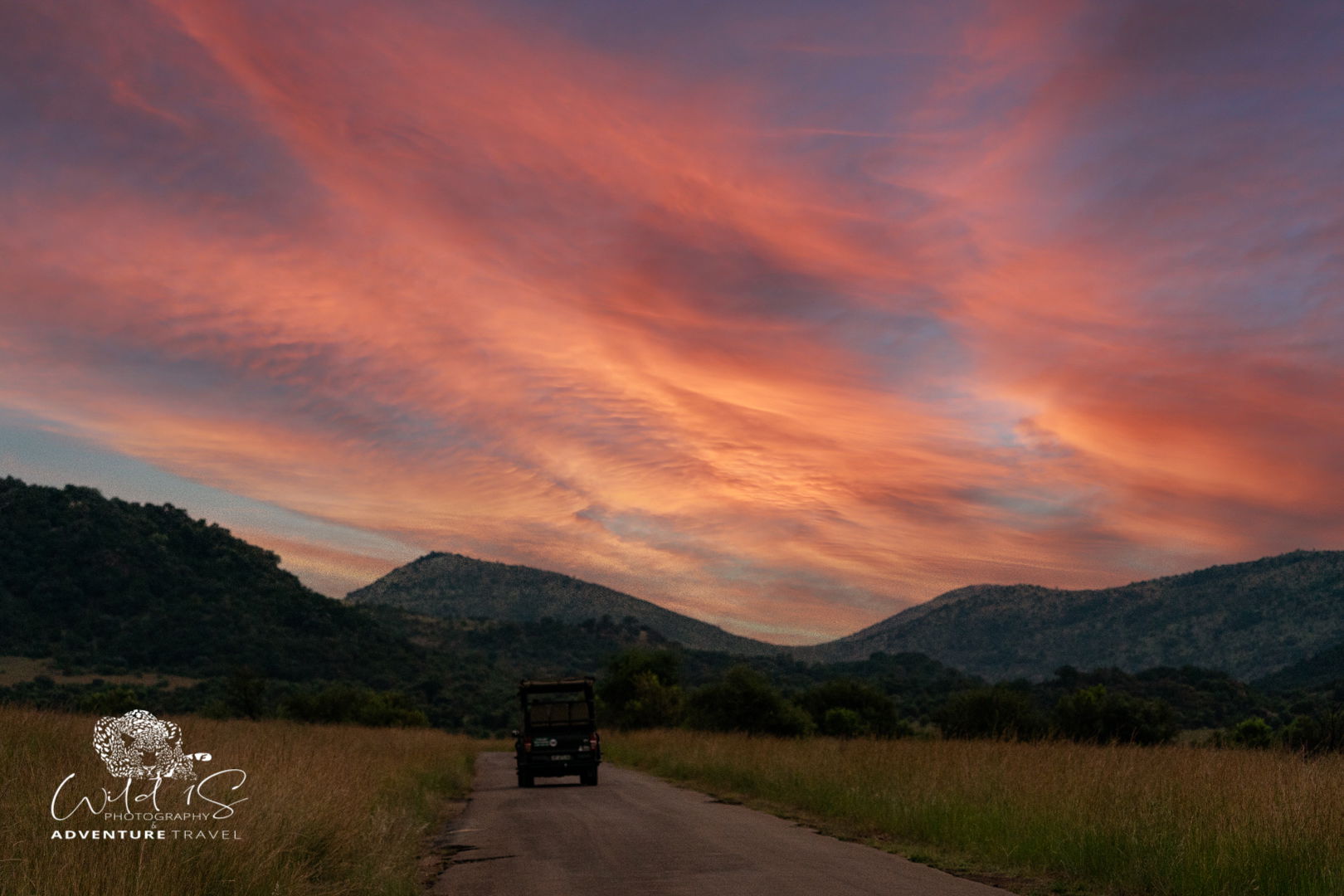 Pilanesburg at dawn.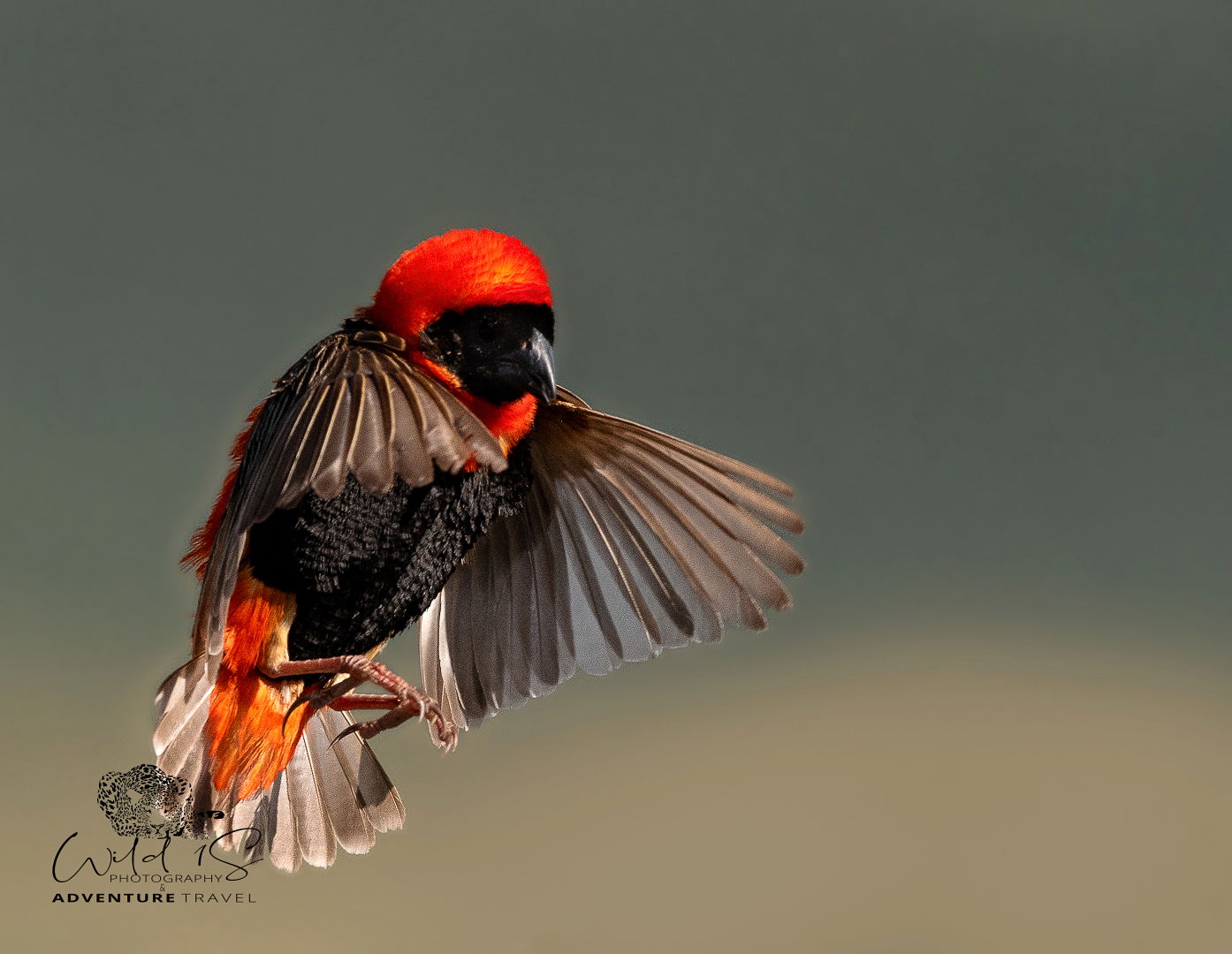 Southern Red Bishop in Flight at Pilanesburg.
The 'berg is a very interesting place of many varied landscapes and even a few animals such as baboons, eland and other small antelope. We have been privileged to visit Castleburn and Lake Naverone as well as Lake Kenmo, a scenic paradise, especially in autumn.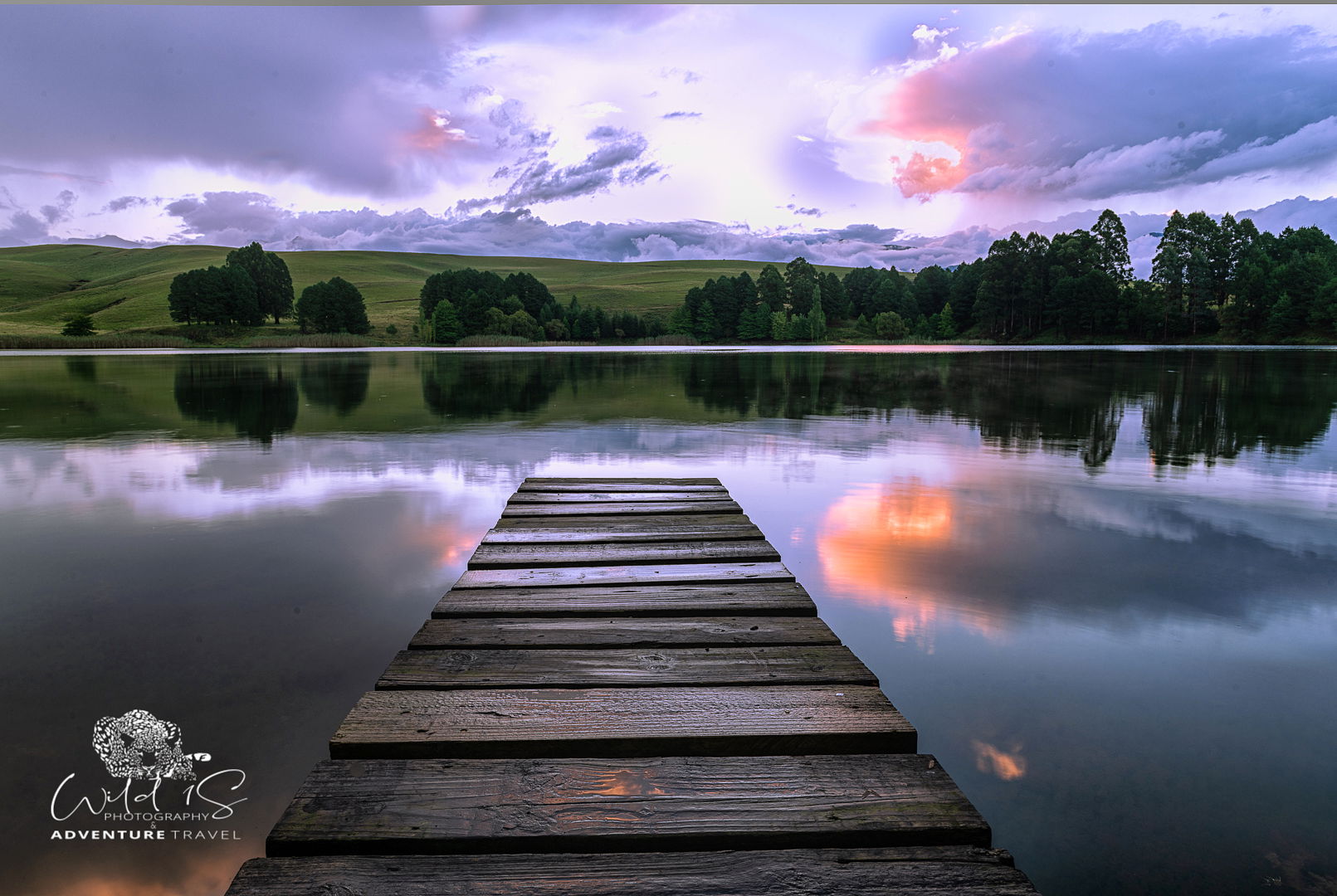 A brief after sunset view from Castleburn.
During our stay at Lake Naverone, a number of camera club members attended and I Marc, gave a chat on landscape photography. A landscape photography competition was held which I judged after the event. This received some really good entries which gave me a hard judging task. Saw some familiar faces and met some interesting people there. On our way in, we took the opportunity to stay at Himeville and photograph the great and well known Kenmo. The wind was a bit unkind to us and the leaves had yet to peak their autumn colours but great still. A few of us recently went back to a peaked Kenmo.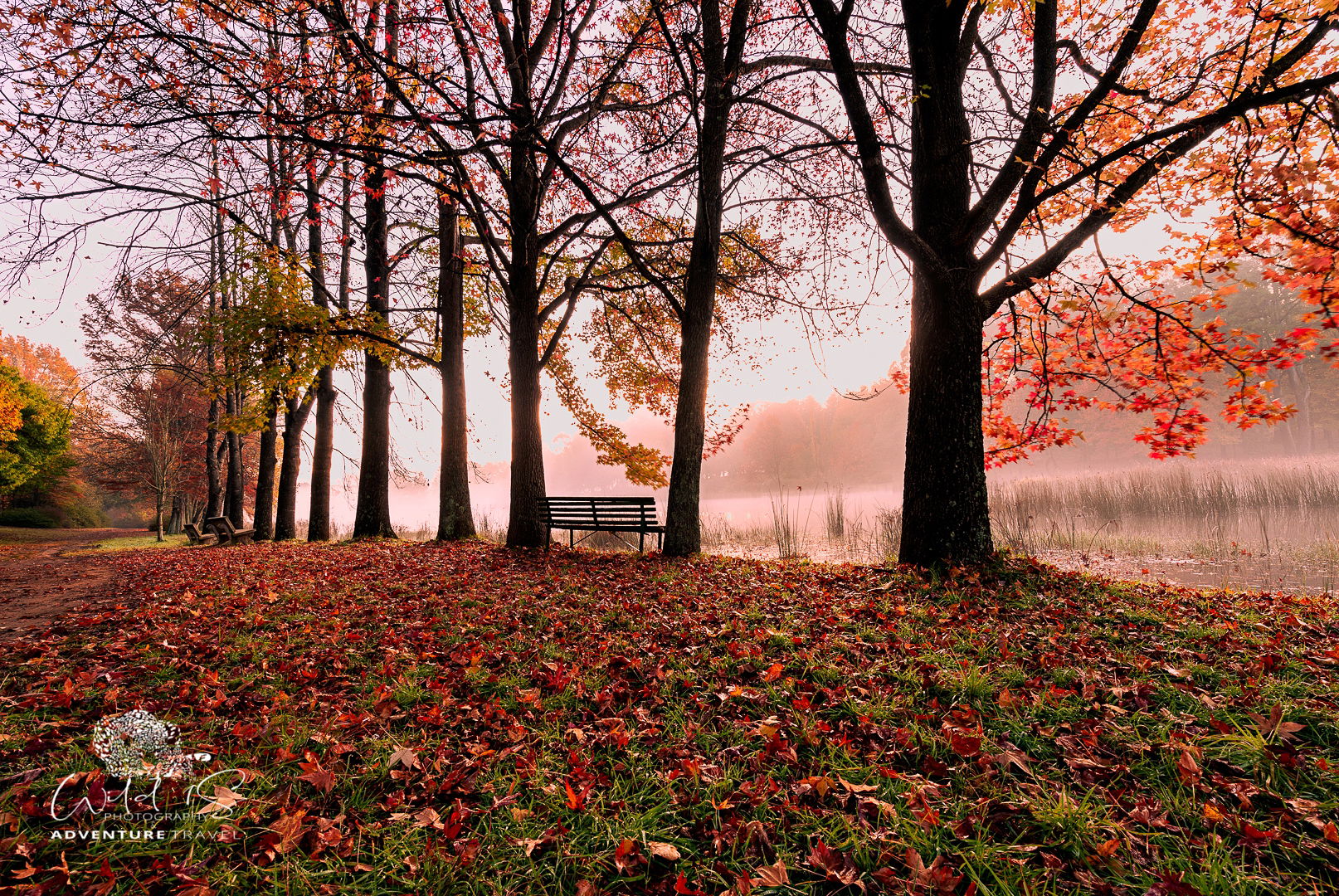 Autumn View from Lake Kenmo.
Before going to Kenmo, we hosted a group to Zimanga. This was a group of talented and fun photographers. We had hoped to do some astro photography during this time but that was not to be, both from the phase of the moon as well as the cloud cover. That still gave us time to chat over this great subject. The images from this adventure were really great and daily we are still seeing the results from our lovely guests.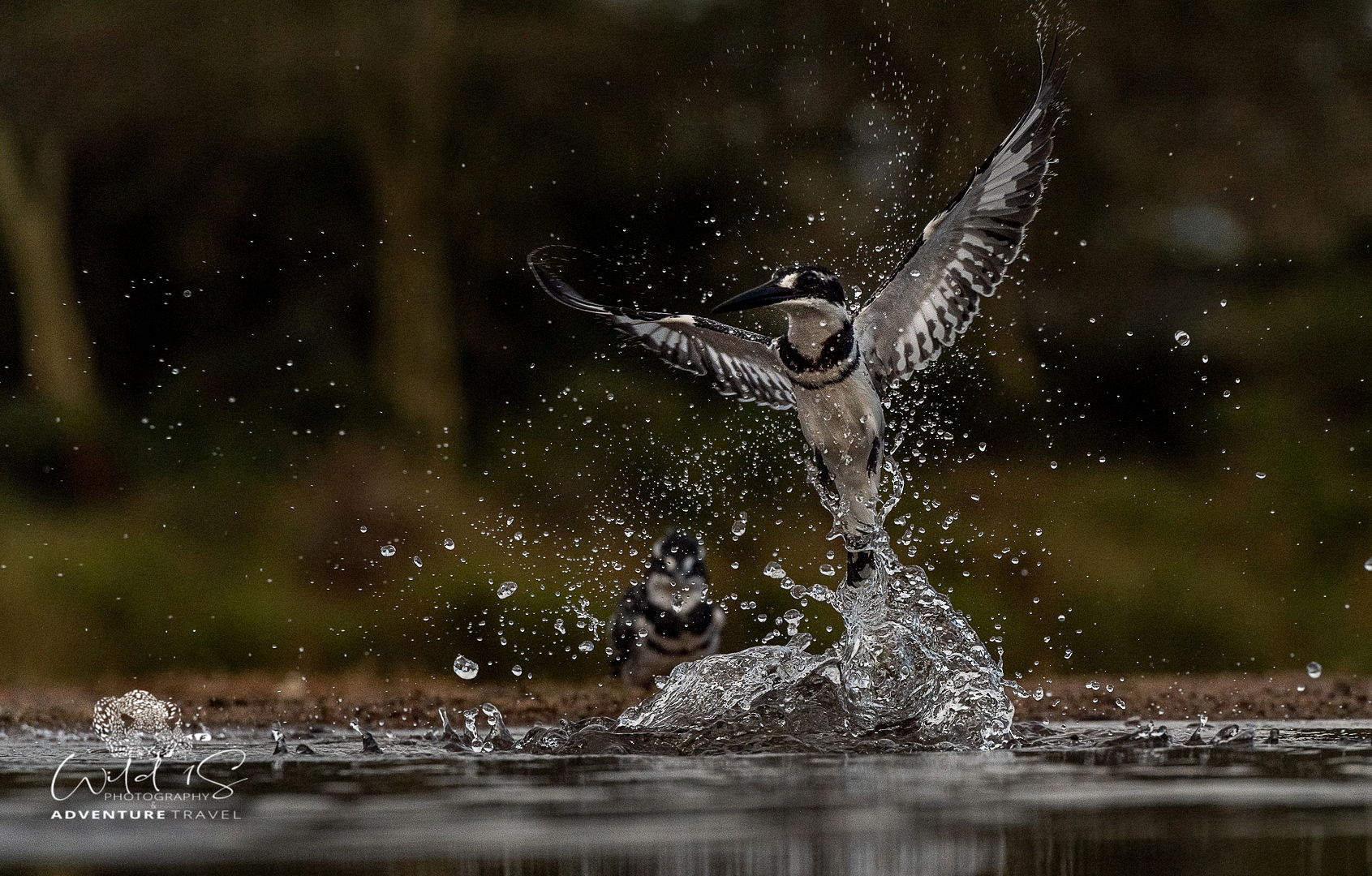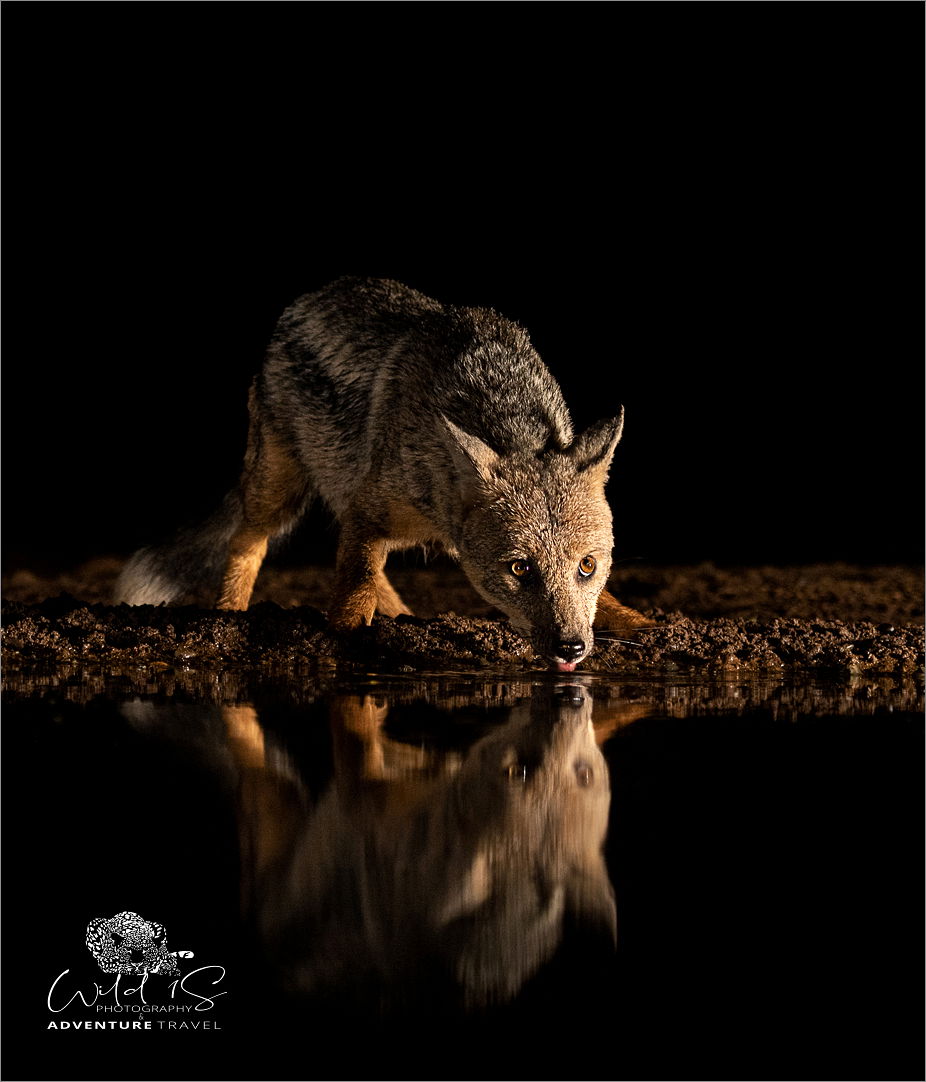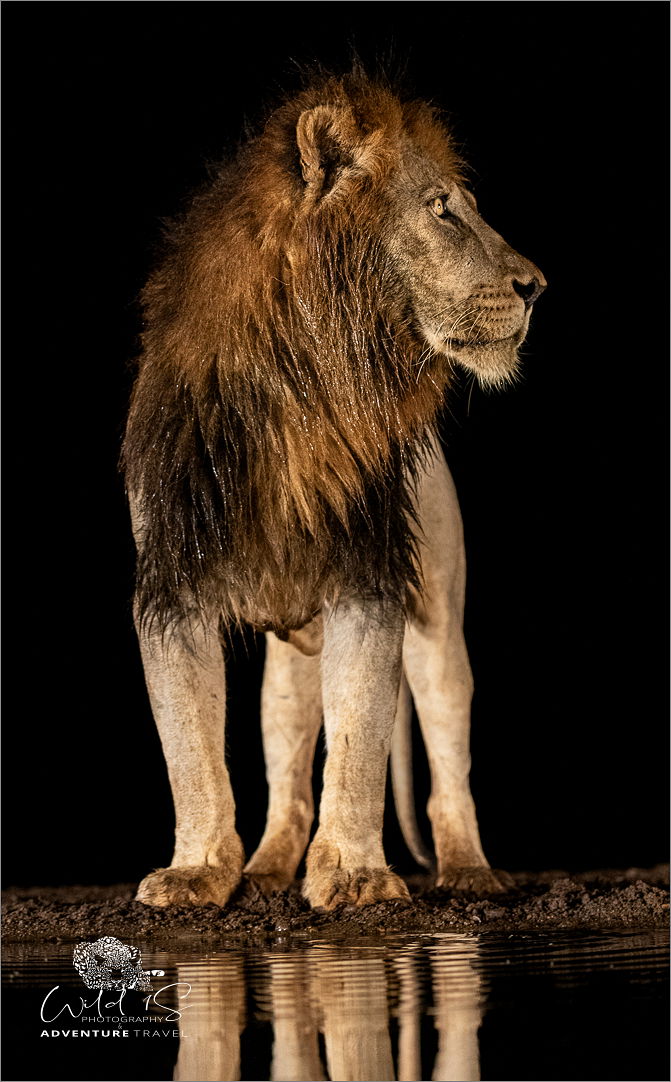 Images from the April '21 Zimanga adventure.
During the latest visit to Lake Kenmo, we met some interesting people and found that we both know a number of people. Always a bit tense when a stranger walks up to you in darkness but when you begin to talk photography, you know you've met a friend.
Where to next? We now head to "Leopardland", the Sabi Sand. You probably all know this but this has one of the highest leopard densities on earth. Savanna Lodge is in the Western part of this amazing piece of SA and without doubt one of the best. The expectations? Leopards and more with a top lodge experience. The challenges? The summer has produced much rain. That has left thick vegetation making for difficult sightings and we have in our group two persons who have yet to see a wild leopard. We then go to Djuma. This place is in the northern part of Sabi Sand and well known as the place from which TV broadcasts are made and leopards from those parts have become "household names".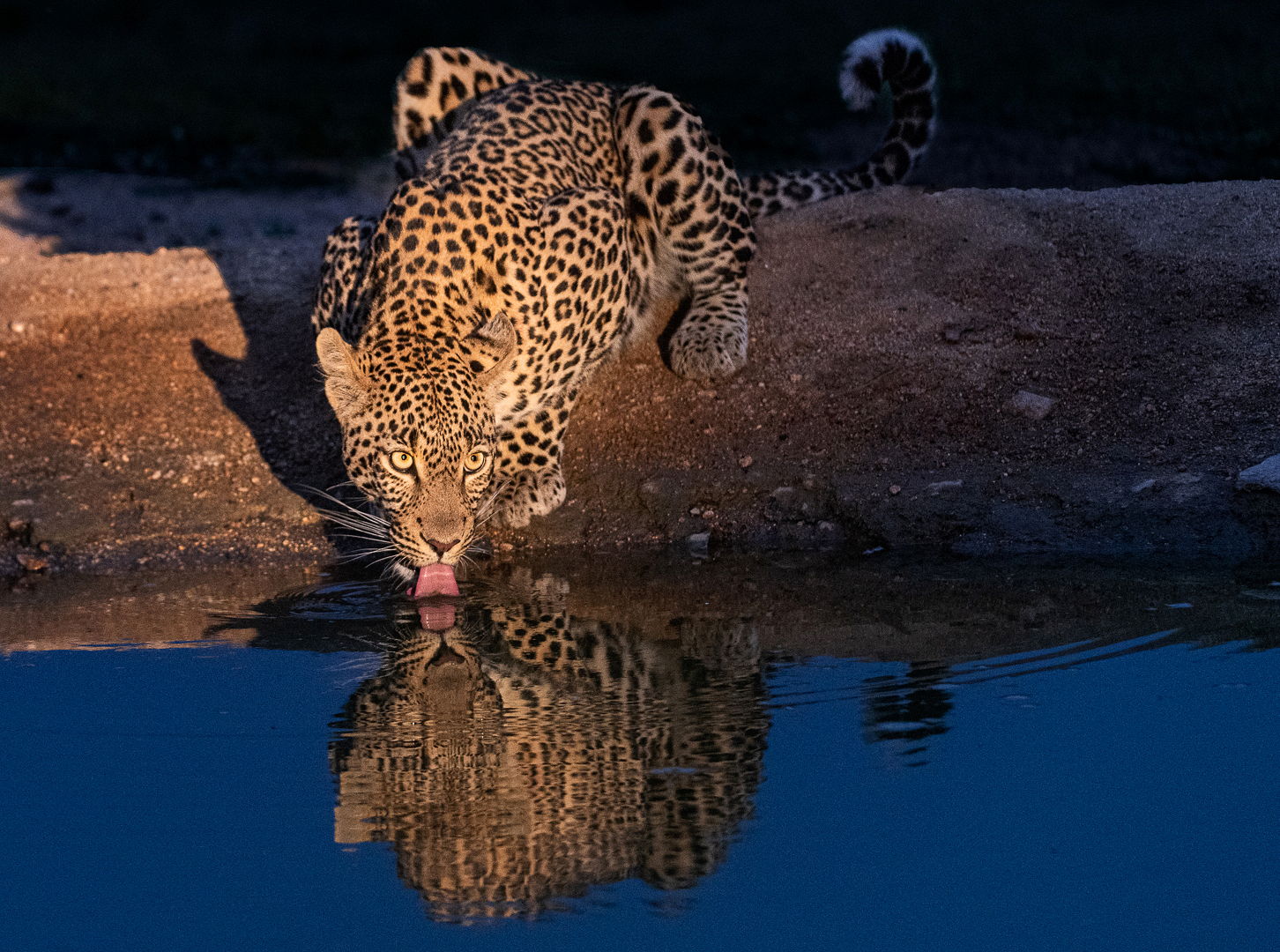 Leopard at Djuma 2020.
We then leave for Antares Bush Camp and Umgede Hide. What will await us there........
This adventure began with a tiring drive and Stella and I got the the Kruger for an overnighter on 12th. We were at Lower Sabie in a safari tent overlooking the Sabie River. We had a quiet dinner on the deck and settled in to shower and rest. I looked up at the sky and its magic held me. That's it, I am photographing this I said I decided to wait for other guests to switch off.....and realised that my tripod was so deeply "buried" that my great idea had been just that....a great idea. After listening to the amazing sounds of a bush night and soaking in the tranquility and then went to bed. We arose to an amazing orange sky which gave way to the sun as we began to make our way, meeting our fellow guests en route over a refreshing drink. We saw little on the way although little in quantity does not have to mean poor quality. We arrive dat Savanna and were give a true Savanna welcome. The team at Savanna just knows how to do it with guests. Our late lunch followed by our first drive awaits. Wish list? As we have 2 guests who have yet to see a wild leopard, guess that one.....and watch this space.
Yesterday we left for an afternoon drive and soon enough found 6 lionesses and sub adult. They were doing what lions do, sleeping. They have 5 small cubs and they were stashed. Soon enough we left them and sought a male leopard who left many tracks.....but no presence. We paused to see a mud soaked rhino, a few elephant and general game and birds. After dark we saw an owl with prey and a flap necked chameleon. We the returned to the lodge to a sumptuous dinner after which we all settled in for the night. We are due to leave early today (14 May) in our quest for the leopards which include 2 females who have 2 cubs each......
AND THEN IT HAPPENED
The day began with the usual optimism which greets a new day in the wild. We had begun to feel some apprehension as the previous day had not produced a leopard and we were determined to see our valued guests who had not seen a wild leopard see one. Very soon we found 3 young lions and a lioness and the light was amazing. We then saw a hippo out of water return to water in a huge splash (honestly, we had a small and in that) which is great light, produced a great sight....then came the great search...we then heard that a leopard and cubs were found but their position was not great. We planned to get there later in the hope that things would improve. We eventually joined another vehicle and there they were, not easy to see but mother and 2 cubs. Patiently we waited and eventually, we saw them clearly as they posed and played with mom before settling. We left and checked on the foursome of lions which were "flat catting" and then....another leopard, a very skittish female. To have witnessed the looks on the faces of the newest members of "Wild Leopard society" members was something not to be easily forgotten.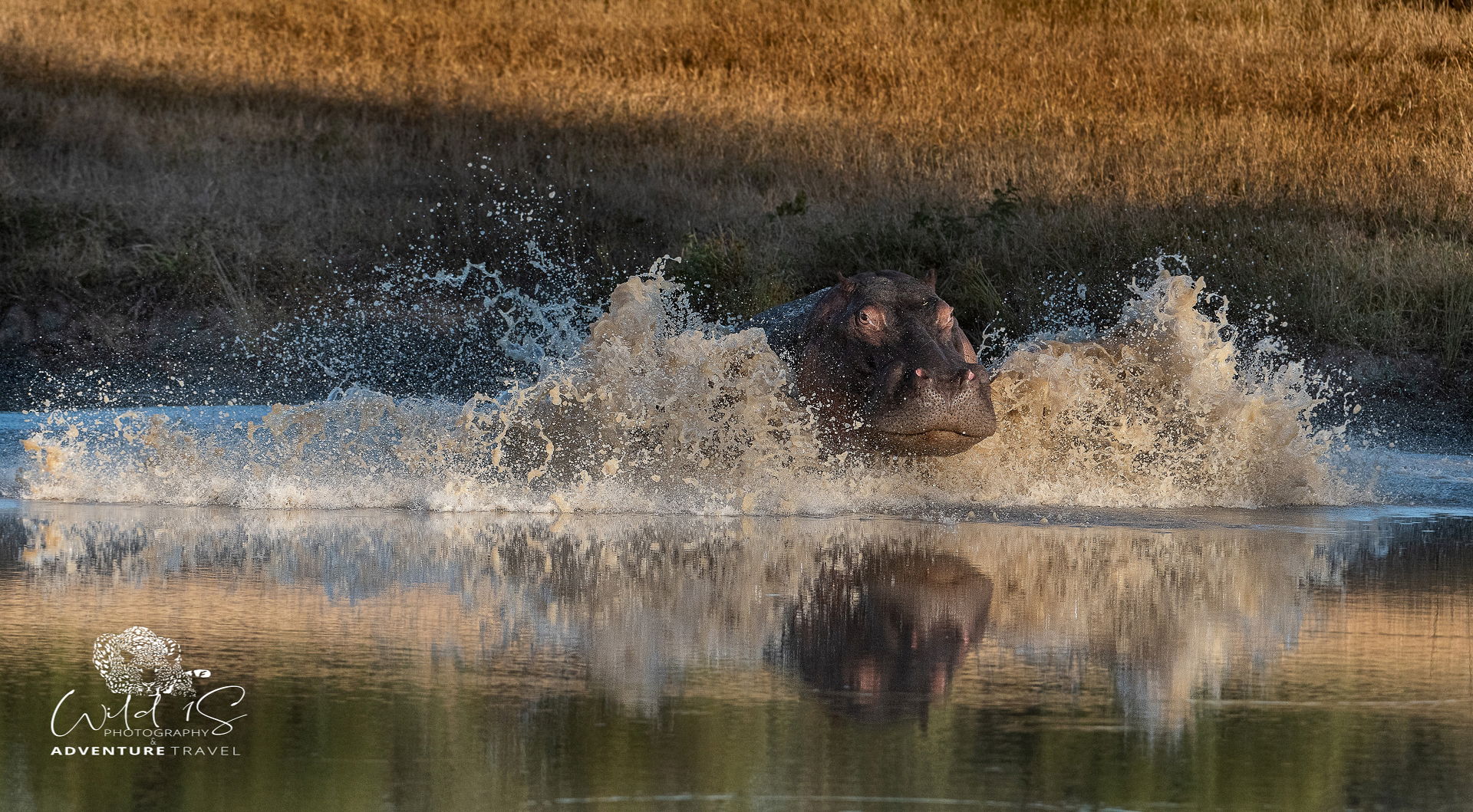 Hippo entering the water in a splash.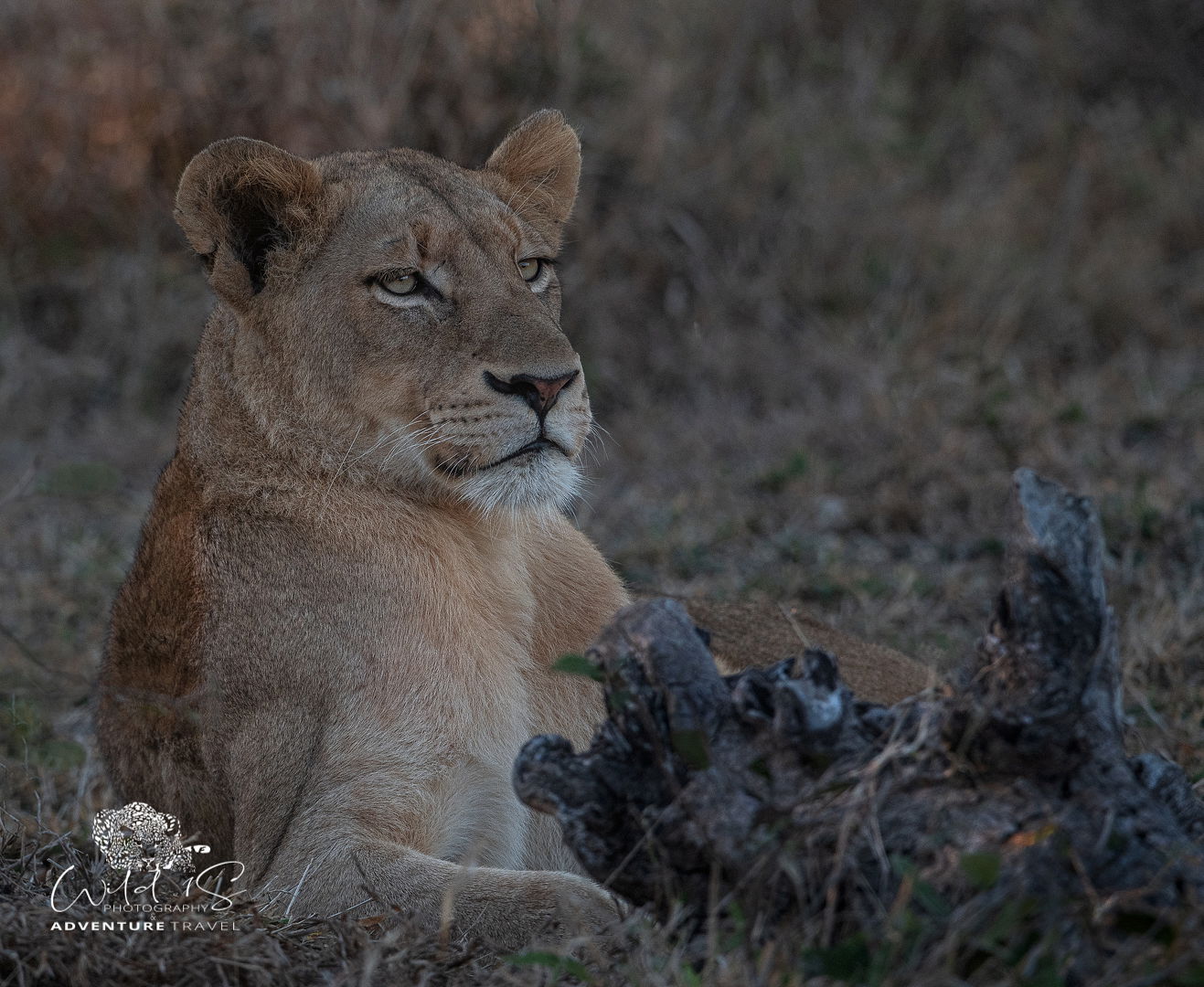 Regal lioness in early light.
What followed can only be described as an afternoon and evening of wonder and perfection. We left the lodge on a warm and sunny afternoon and pretty soon found the foursome of 3 lions and a lioness we had found early. They were fairly interesting, scaring a herd of impala away. We positioned ourselves well and enjoyed some great moments with them. We then enjoyed an impromptu show from a lone hippo in the waterhole at which we had found the lions. We left the lions and saw general game while we followed up on a distant male leopard we had heard of. The time to get to him seemed endless and he was on the boarder of a neighboring property which meant we could lose him at any time, harrowing indeed. We eventually reached him and to our delight, he seemed to be hunting. We watched this and followed him while he got a herd if impala to leave noisily and spooked a herd of zebra before we left him.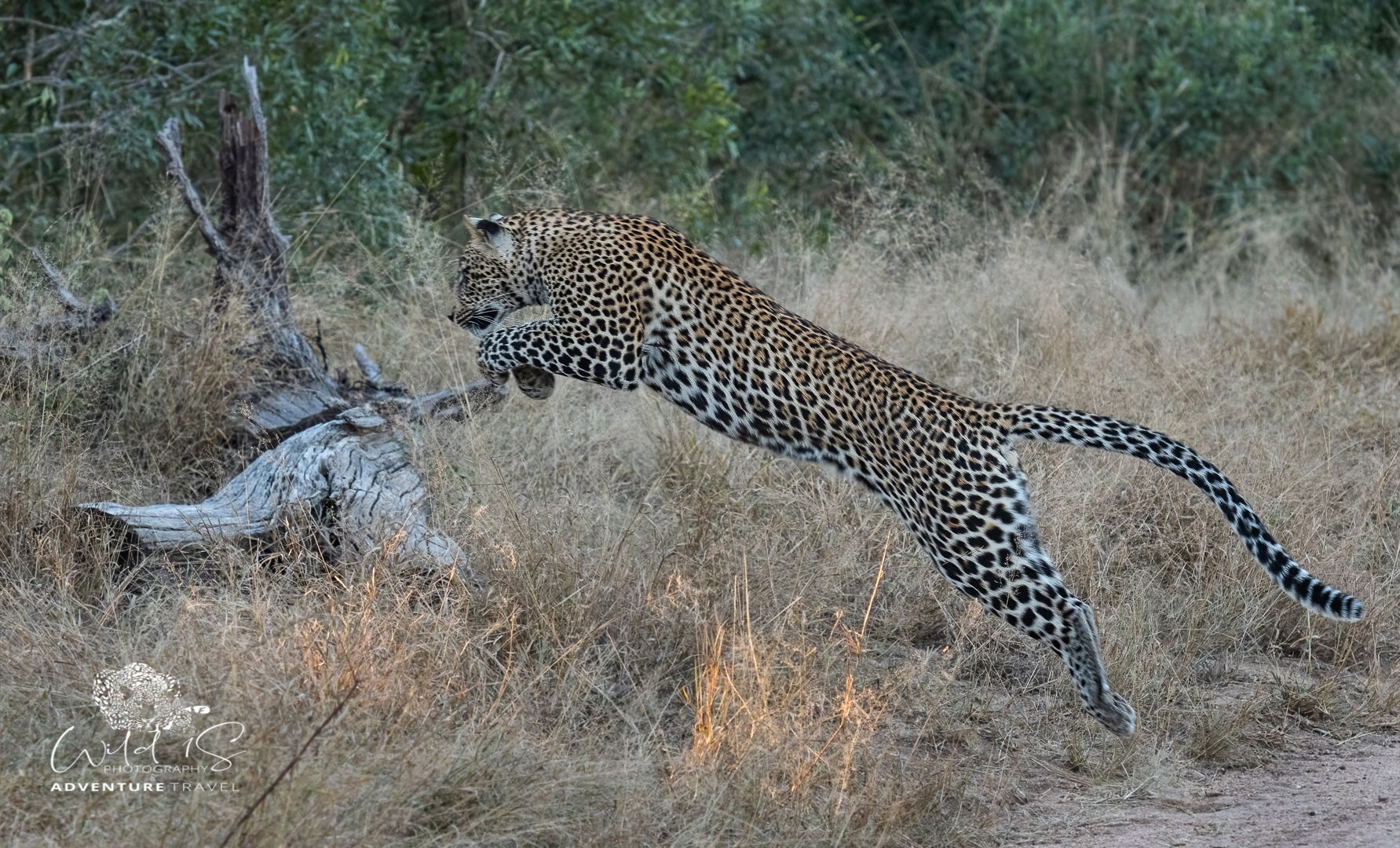 Leopard in hunt action.
We then decided to follow up on a pair of mating lions. We duly found them and they entertained us not mating as well as roaring to other nearby lions. In jubilation, we stopped for a celebratory drink before we moved on.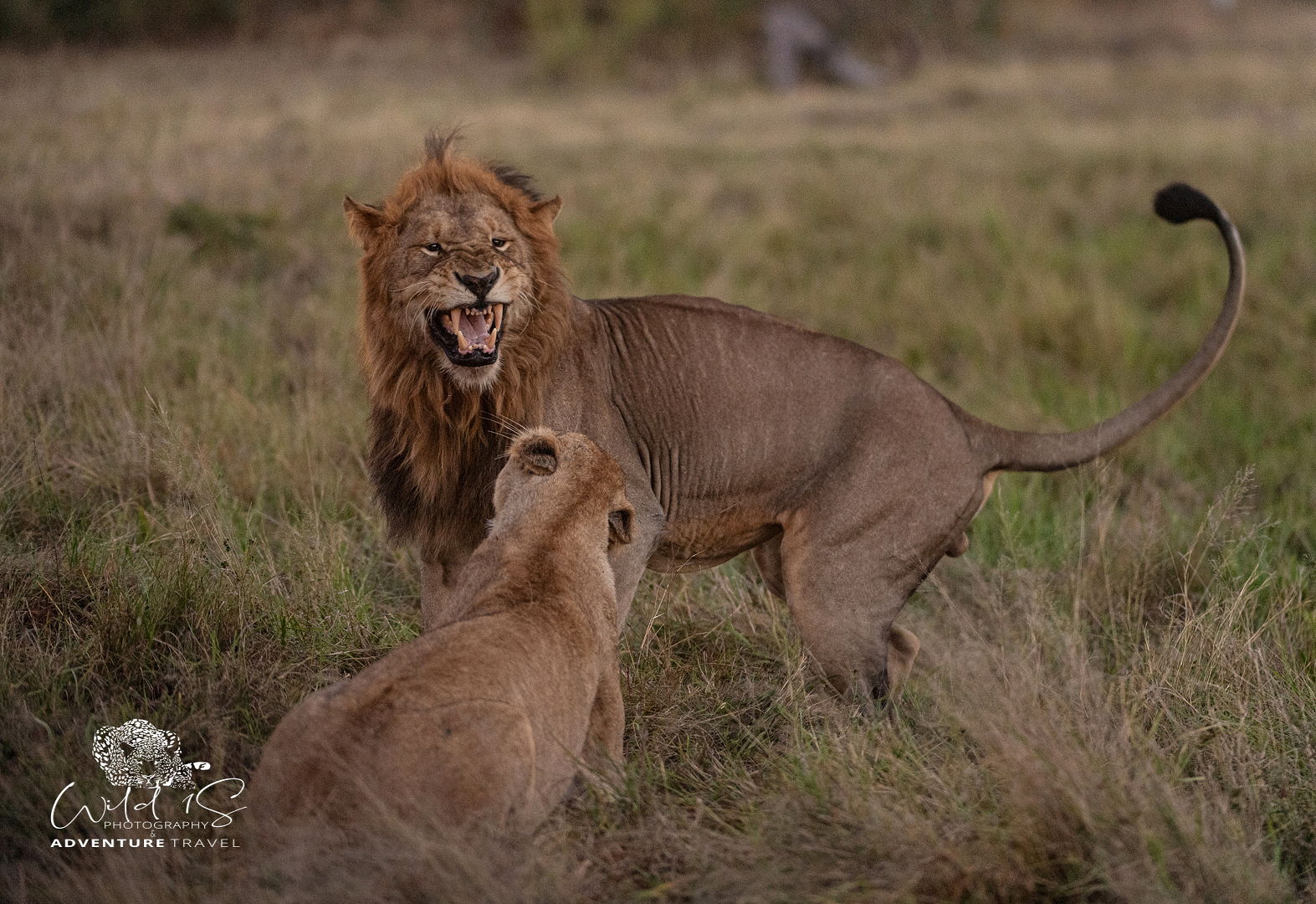 Intensity of passion
As a surprise, we were taken to a bush dinner, just another part of the "Savanna touch" and what makes this the place it is.
Early today, 15 June 2021, was time to enjoy our past drive at Savanna and move on to Djuma. Savanna certainly did not disappoint, again! We had an epic sighting of 10 spotted Hyena's doing their thing, running, fighting, greeting, vocalising, playing, swimming for long in perfect early light, in short a photographers dream. We then moved on and found a young leopard, Shangwe, who really made us work by his constant movement in thick vegetation, pausing rather briefly on a termite mound and so allowing some decent photography. We then had to say our goodbye's, end at Savanna and move to Djuma. We went there uneventfully where we met our chef, guide, tracker and after settling in and a light lunch, set off for our first drive. That started off really quietly with only the Talamati pride of lions being "flat cats" and even the normally rather active radio was eerily silent. After some time of this, the radio came to life with the words you want to hear "madoda ingwe" (male leopard). we made our way there for what felt like and age and there found a super male called Nhlanguleni. He made us work our way through thick vegetation while the light changed and we lost him. We anticipated his movements and one of our wonderful guests found him as day turned into night. We then enjoyed a very active sighting of him with some very enjoyable night photography before returning to the lodge for a great evening with a great dinner.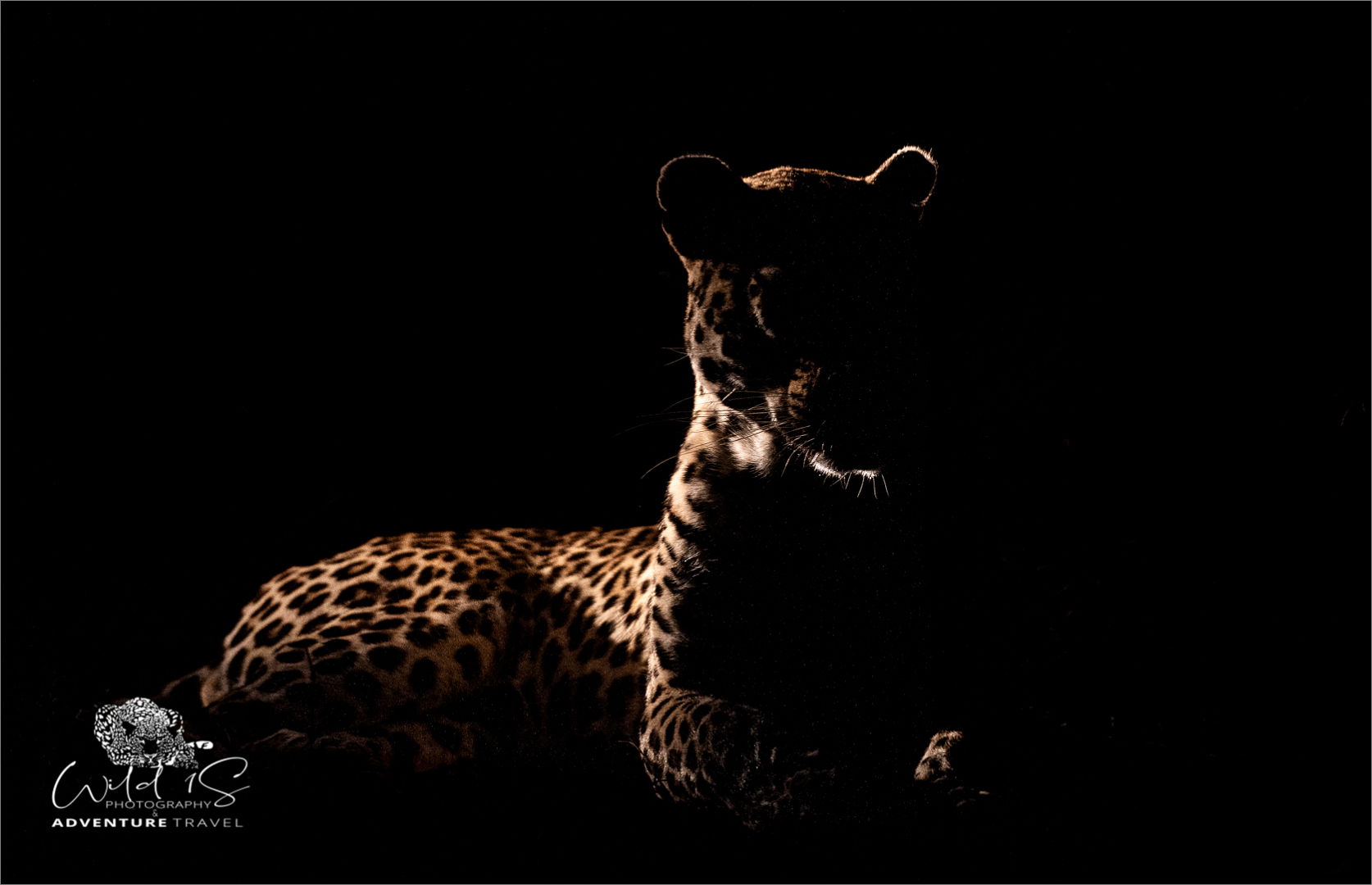 Night Vision
This morning 16 June, began really well. Chilly crisp air fanned our faces as we went over a shooting approach and changing light and it was early when we spotted a wild dog at Sydney's Dam. In the water was a lone impala and we saw what that meant. Cameras began to click as the dog went to the waters edge. Several times the impala fearfully changed course and the dog charged in to the water and subdued his hapless victim and left it, only to go to the far side and this time it was over as Africa's fearsome hunter took charge and dragged his prey to the shallows and overcame him. He then proceeded to feed in a total frenzy, pausing a few times only to look for any danger and finally leaving. It was almost immediate and hyena arrived and took the remains of the kill, in a dramatic manner which included running. We left them and were on our way to a pride of lions when we spotted a male leopard in the thickets. we followed him and he saw an impala ram and started to stalk it. His patience was amazing but alas, he was eventually spotted by his prey putting and end to that. We returned to camp to a sumptuous breakfast followed by a well deserved rest. What will the afternoon bring us?
The afternoon began as a hot one. Sadly hot it did not remain in terms of sightings and temperature later. We found an inactive pack of wild dogs and all out other calls were jaded, our only consolation being that the dogs did get a bit active. The thought this brings to mind is that wildlife is unpredictable and creative energy must be kept going. We returned to camp to a delicious dinner and after a pleasant chat, settled in for the night.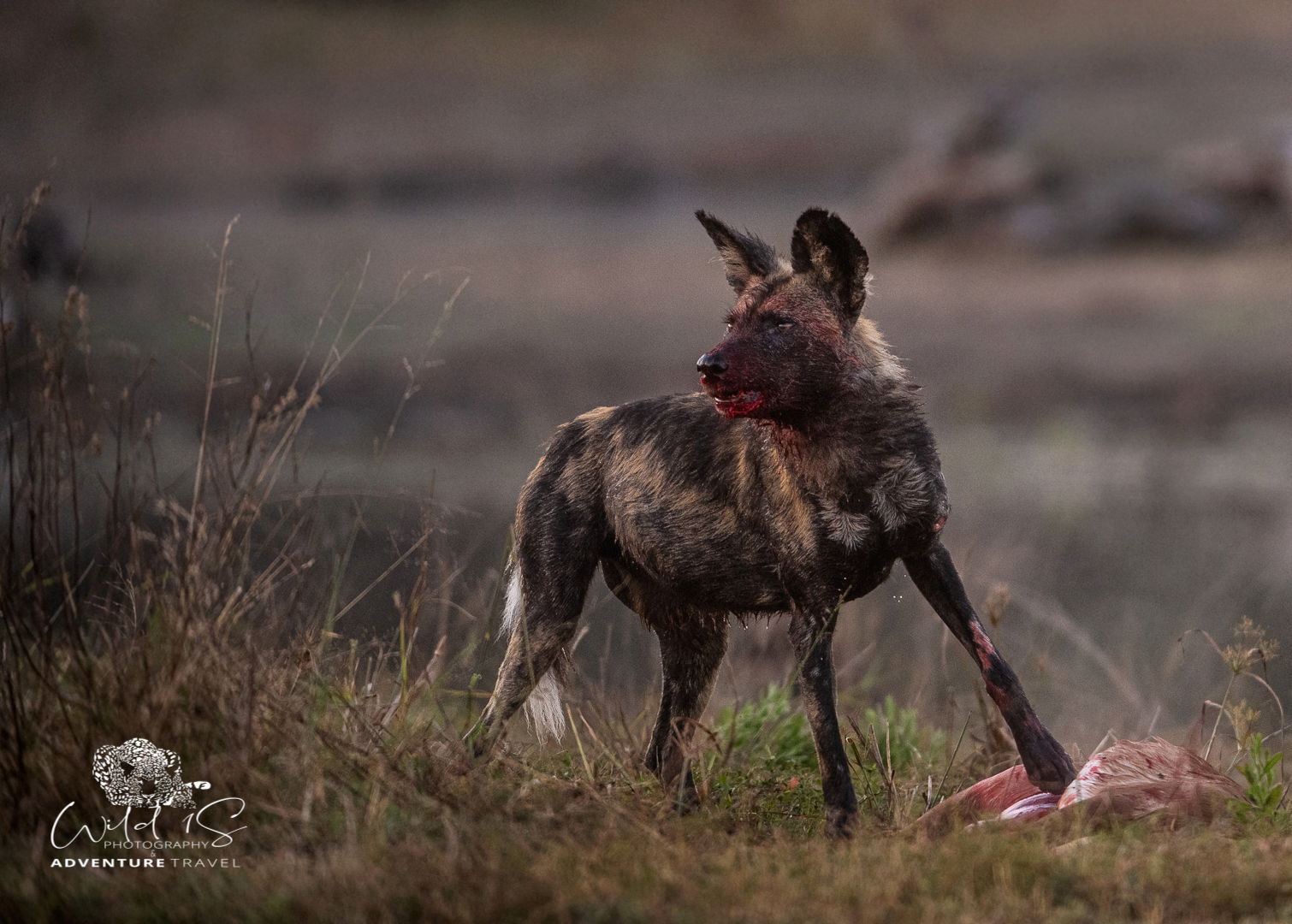 Wild dog at kill.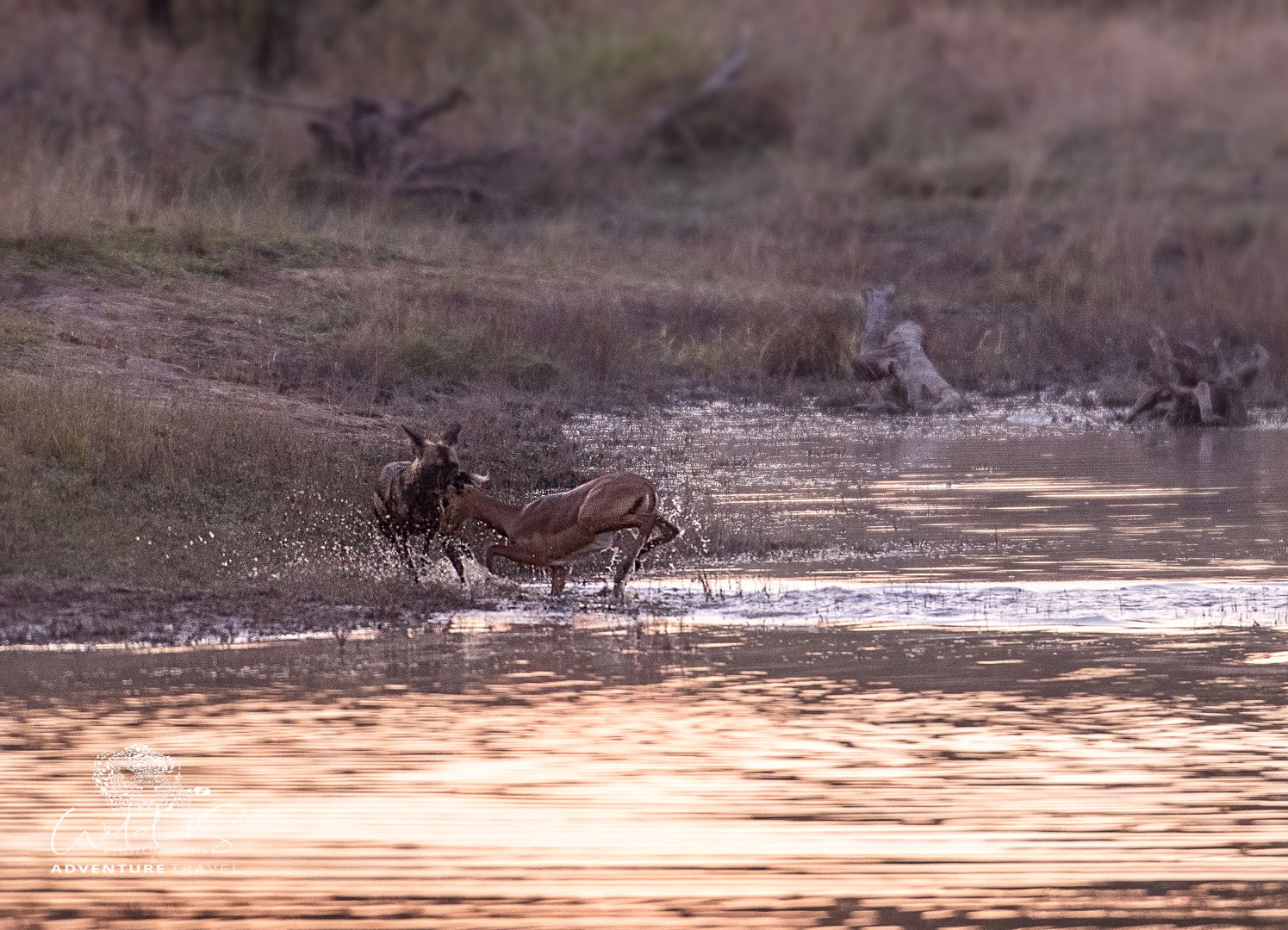 The Deed
What will 17th bring us?.
The 17th began with another not too eventful drive. We looked around and spike to others out on drive and found the Torchwood pride which consisted of lionesses. Sadly they had already settled in for a lazy day so our enjoyment of them was limited to watching some fleeting expressions and one of them wanting to groom them all. Some seemed to be accepting of this whereas others were just only tolerant. After a short coffee and comfort stop, we headed back to camp where a tasty breakfast beckoned. After breakfast a few of us had a chat about editing and we then took some needed rest. In the afternoon, we set out and were soon enough told of a large male leopard who may have killed a warthog. He was found quite easily and obligingly posed on a termite mound next to a warthog burrow. He had blood around his face which seemed to suggest that he had hunted. There were also hyena nearby which further seemed to mean he had killed. He waited patiently. Suddenly, the warthog emerged and a swift interaction took place with the warthog managing to get back into the hole. Again he waited patiently as we did too. Well after sunset and a few blue hour shots captured, Aubrey our guide thought the warthog would not emerge, so we left, pausing for a drink en route, to a lovely supper of Spring Rolls, Moroccan lamb and a granadilla desert.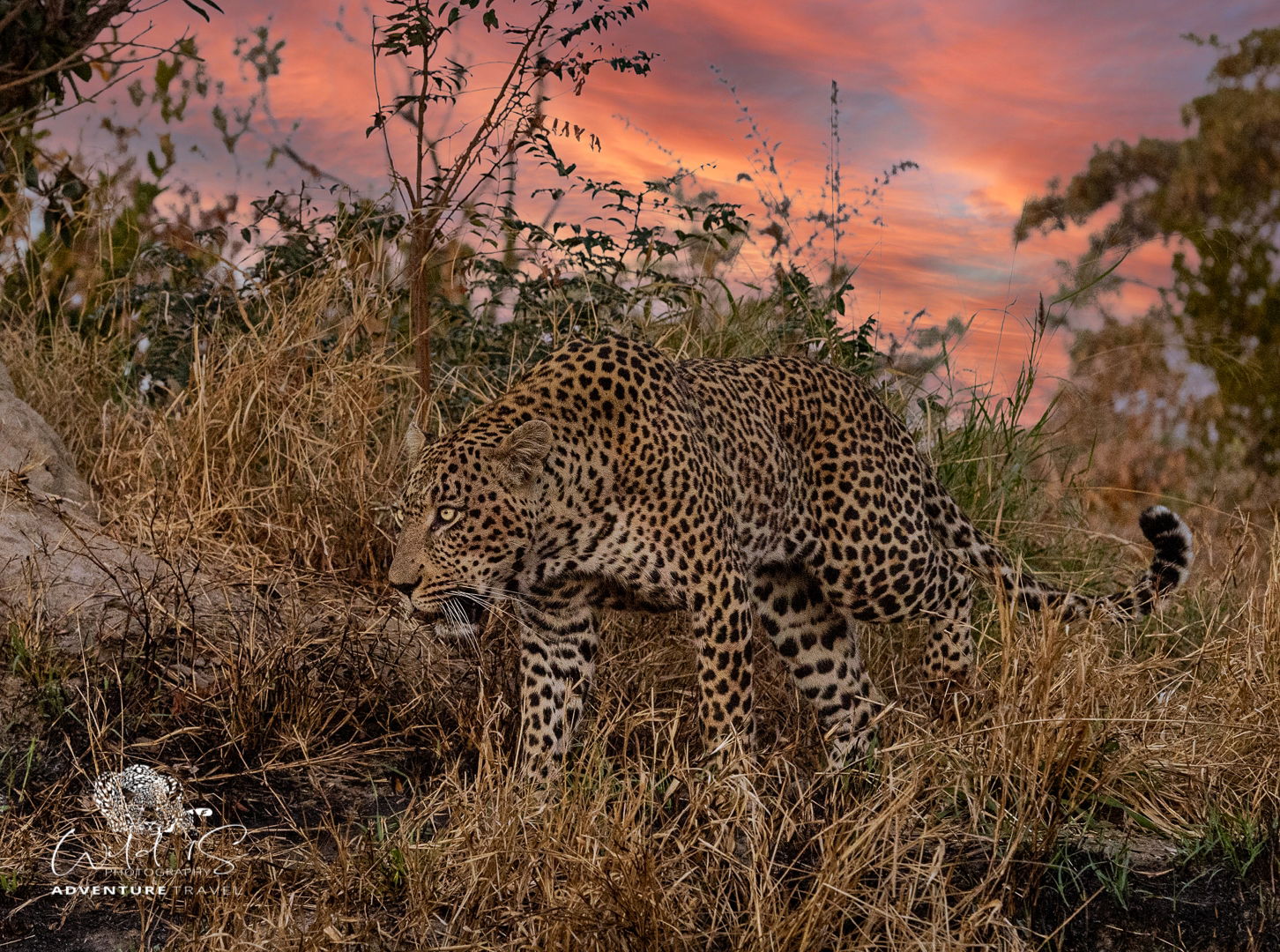 Quarantine male leopard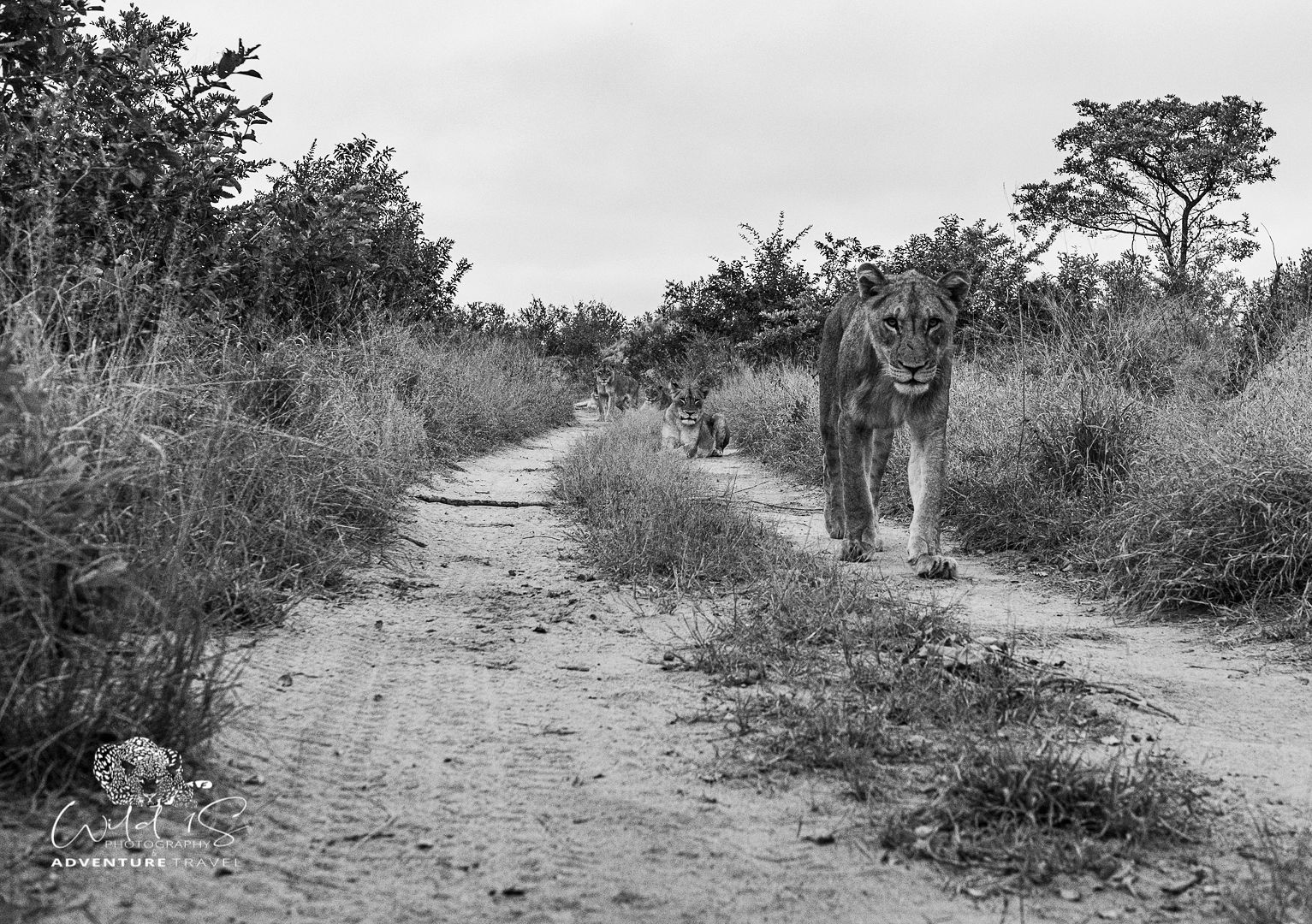 Low angled mover.
The 18th began really well. we found the Talamati pride early with an Avoca male. They were initially not too active and that did not last as the got mobile. We stayed with the male and photographed him as he moved. We then caught the females and sub adult males who would stop and then move. Our guide Aubrey anticipated them superbly which made for a really great sighting. After an enjoyable coffee stop, we again found them but by that stage, they were rather "flat" so we came back to a tasty breakfast, a photography chat on editing nd then some rest. After a tasty lunch, we left for the afternoon. We again found the Talamati pride who had caught and feasted on a waterbuck ram and they were full, fat and flat. After a short time with them, we left in search for a female leopard with a cub. That was not to be and as dark set in, we were told of a male leopard on a dam wall. With some haste and determination, we got to him in time to see him leave the dam wall and head to some vegetation where he lay down. Looking at his flat belly, we concluded that he would settle so we left for a drinks stop an then made for the camo where we were welcomed and enjoyed a great dinner and fireside chat, before settling in.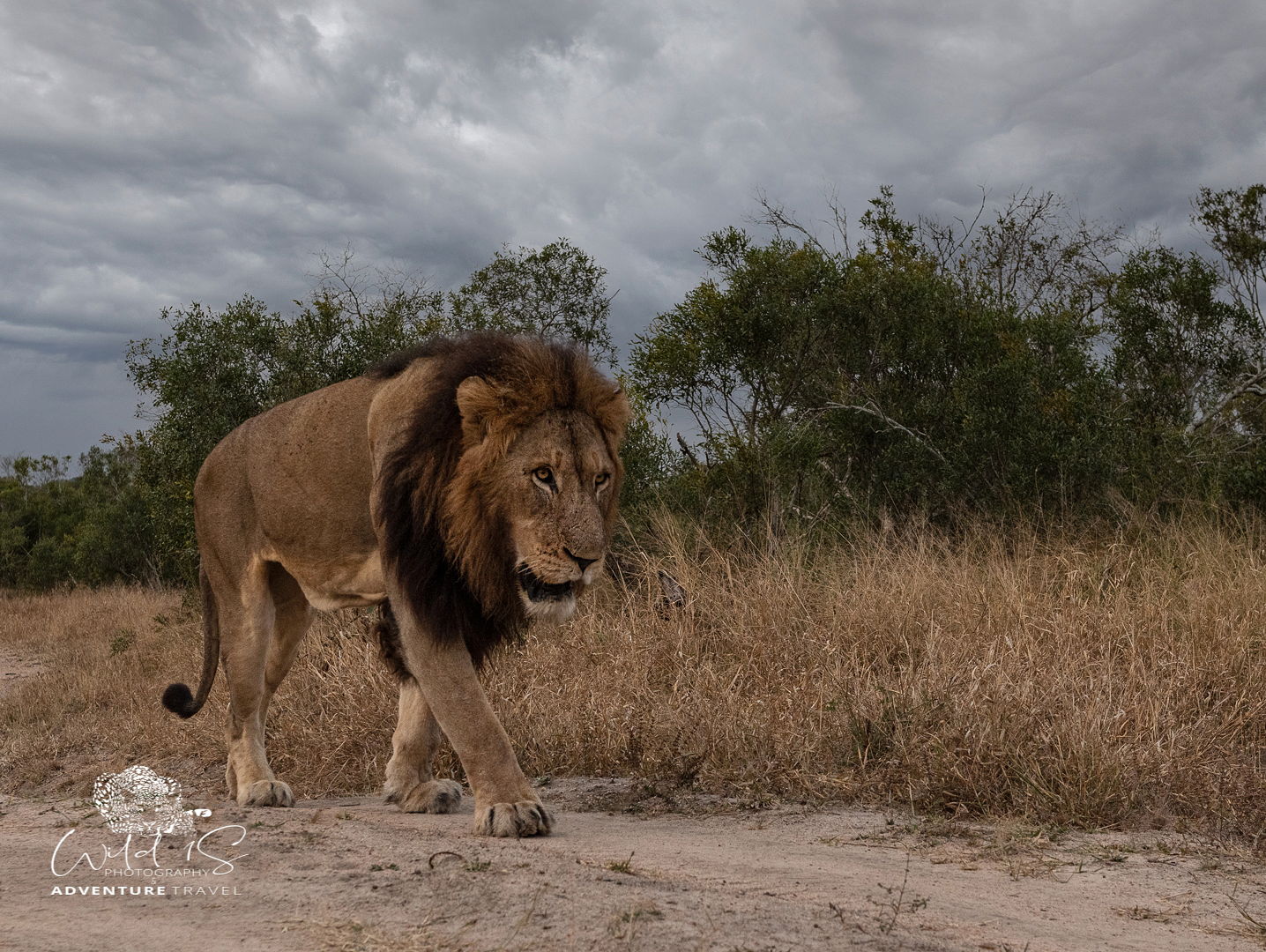 Avoca male at low angle.
The 19th was another of those epic days. It was the coldest morning so far. Within minutes we had located the Talamati pride not far from their previous kill but they were not giving us much to see. We were then alerted to a male leopard on the the Sydney's Dam wall and made our way there, the light getting more appealing by the moment. As we arrived he left the wall, a bit disappointing. We followed him and our guide extraordinaire though he had a kill nearby. Correct! There in the Marula tree was a well consumed impala. He came near but did not climb the tree. We positioned ourselves perfectly with the light and tree trunk and patiently waited. During this time, we saw that an impala was near. The drama expected could almost be felt, but little did we know that it would even surpass our expectations. After some time, he leapt into the tree to the accompaniment of the camera shutters. We moved around as he positioned and ate from the kill.....and the hyena got closer. He then left the tree with the kill in the face of the oncoming hyena. We knew what was coming next as he saw the hyena and retreated and again climbed the tree with the kill. He ate a bit more and rested and then tried it all over again. This time the hyena would not take no for an answer and after a brief scuffle, it was all over and the kill was lost to the hyena. We left the sighting for a deserved coffee stop, or celebration rather, all excited at what we had experienced. We stopped in at the lions on the way back to camp, but they were near where we had left them and doing what lions do best, resting, so we returned to camp, a hearty breakfast and some editing and tuition.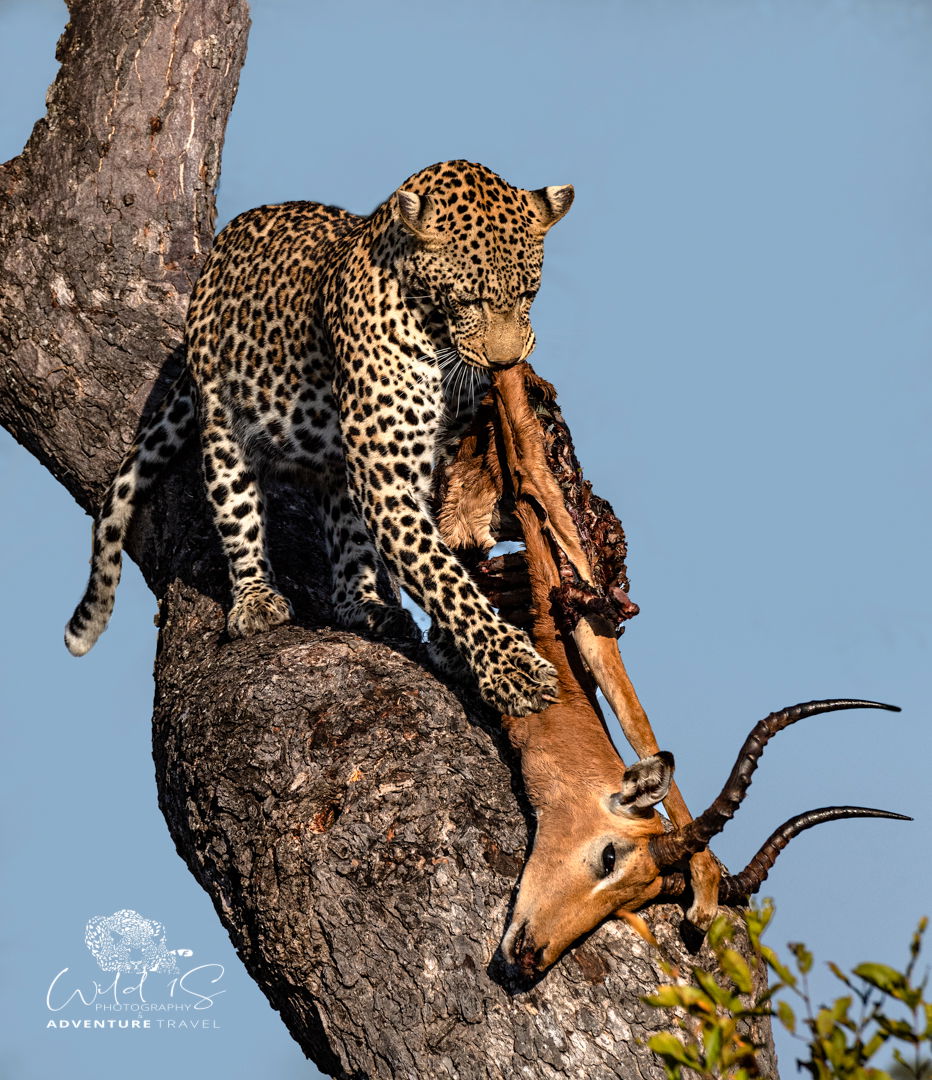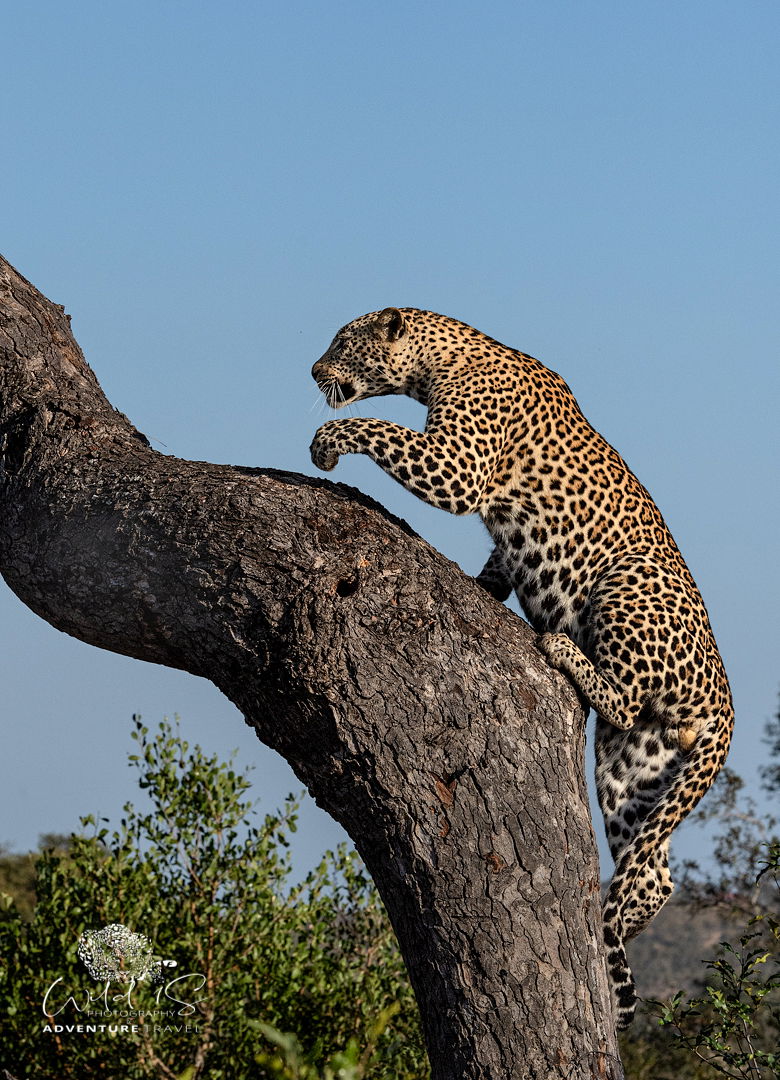 The afternoon was just not like the morning. That is how it happens in the wild, it has what can only be described as an unpredictability. As a host this can be stressful but it is what it is. We looked diligently and bar the "flat cats" which we briefly visited, we had to be content with a magical afternoon in nature, a stop for a drink in a scenic dusk and a return to camp enjoy a drink and delicious meal in the company of the Djuma manager.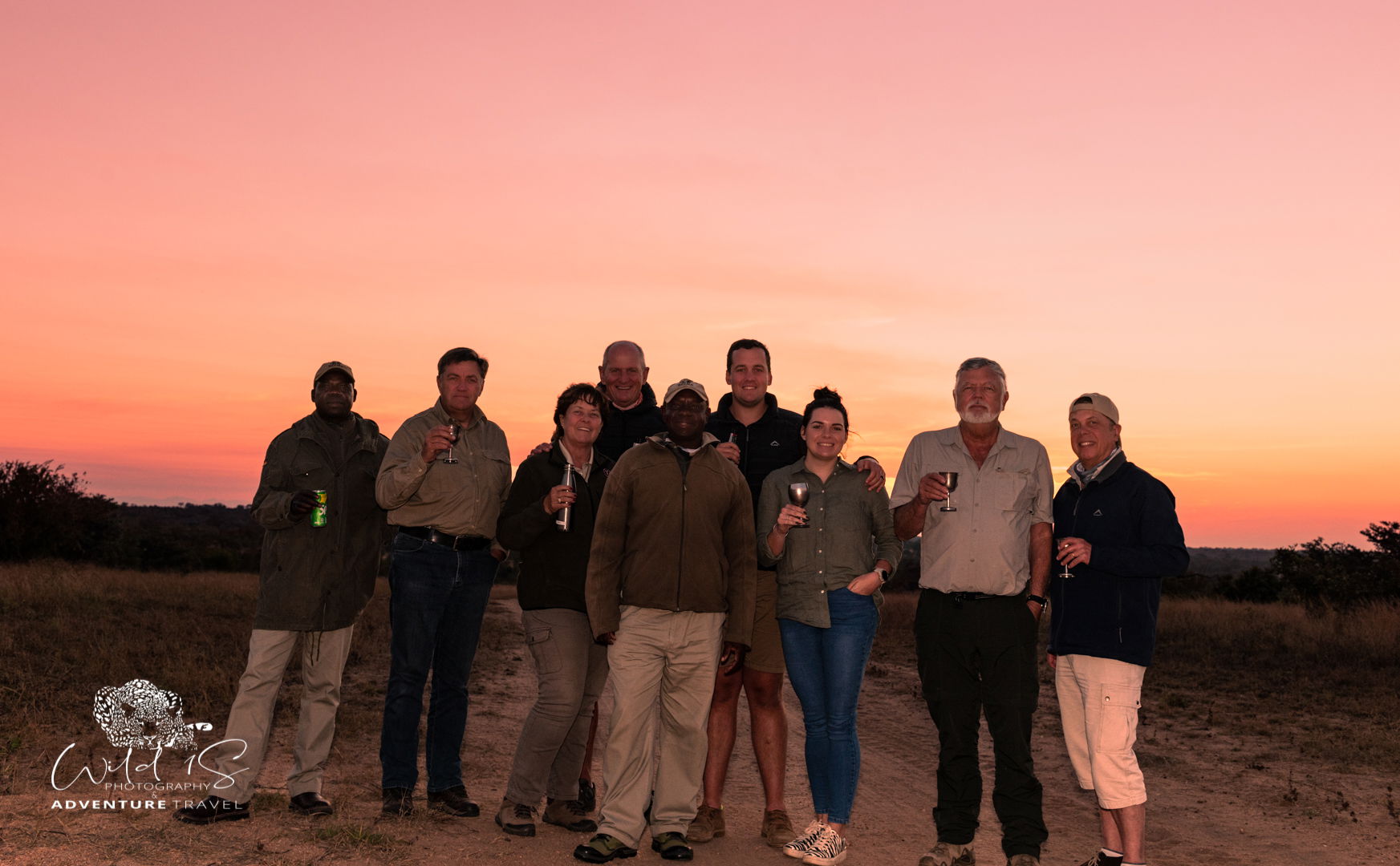 Refreshment in the wild being enjoyed by a great group of people.
The 20th began a bit quietly as we checked up on tracks and signs, always very interesting as we witness experts interpret the "language" of nature. After a time, we found the Talamati pride of lions in an area inaccessible to us. We had to be content to look from a distance and leave, Aubrey assuring us that they would cross to where we could get to them, and so advising that we stay close, which we did. We were then told that a male and female leopard had been spotted nearby and began to make out way there. We sadly arrived to no sign of the male and the female high up in a tree. As we looked at this, the lions had come and were headed for where we were. we witnessed them at the foot of the tree in question, moaning and scratching at the tree trunk before they carried on moving into the Manyaleti area pausing many times and so giving us many great photographic opportunities. After a coffee break nearby, we went back to the female leopard. We awaited at the tree where she was, still quite concealed. Our patience was rewarded as she came down the tree and we followed her. She paused on a termite mound and with the light getting rather hard, we left her and we went back to the camp for a super breakfast and some well deserved rest before setting out for the afternoon. The warm afternoon began quietly as we looked for signs, hoping to find the areas dominant male leopard whose tracks had been seen but that was not to be. We stayed fairly close to where a leopard pair had been seen in the afternoon. There had also been wild dogs in the area which we hoped would come to where we could view them. Suddenly we were told of their presence and they appeared near water and on the move. We followed them briefly at sunset but sadly they disappeared into the Manyaleti but not after giving us some great opportunities. We then had a drink stop and looked for more game before heading back to camp to enjoy a wonderful fireside chat and dinner of Moroccan lamb Tagine as our main course. That brought an end to the late drives at Djuma as after a morning drive on 21st, we leave for Antares and Umgede Hide.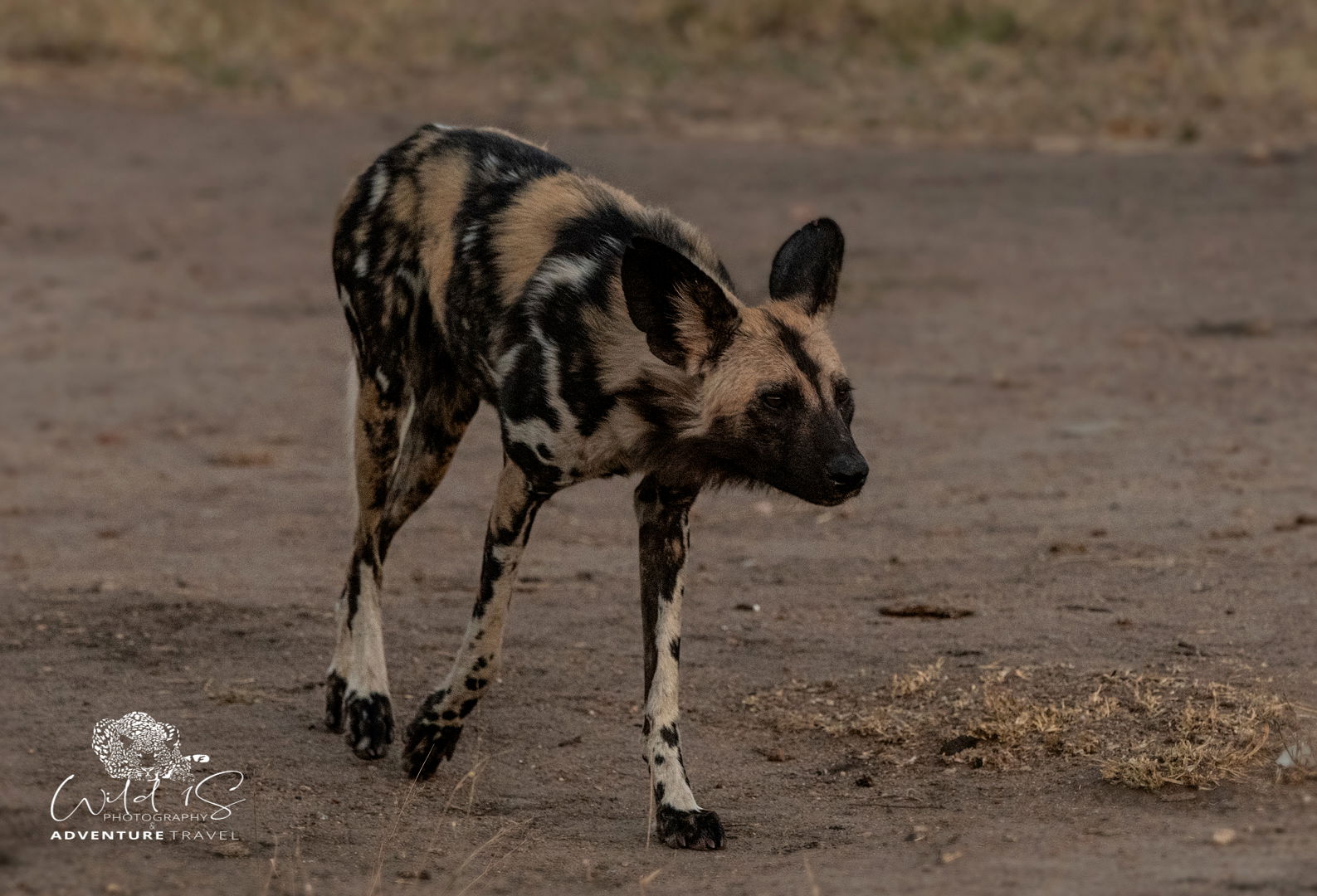 Dog on the move.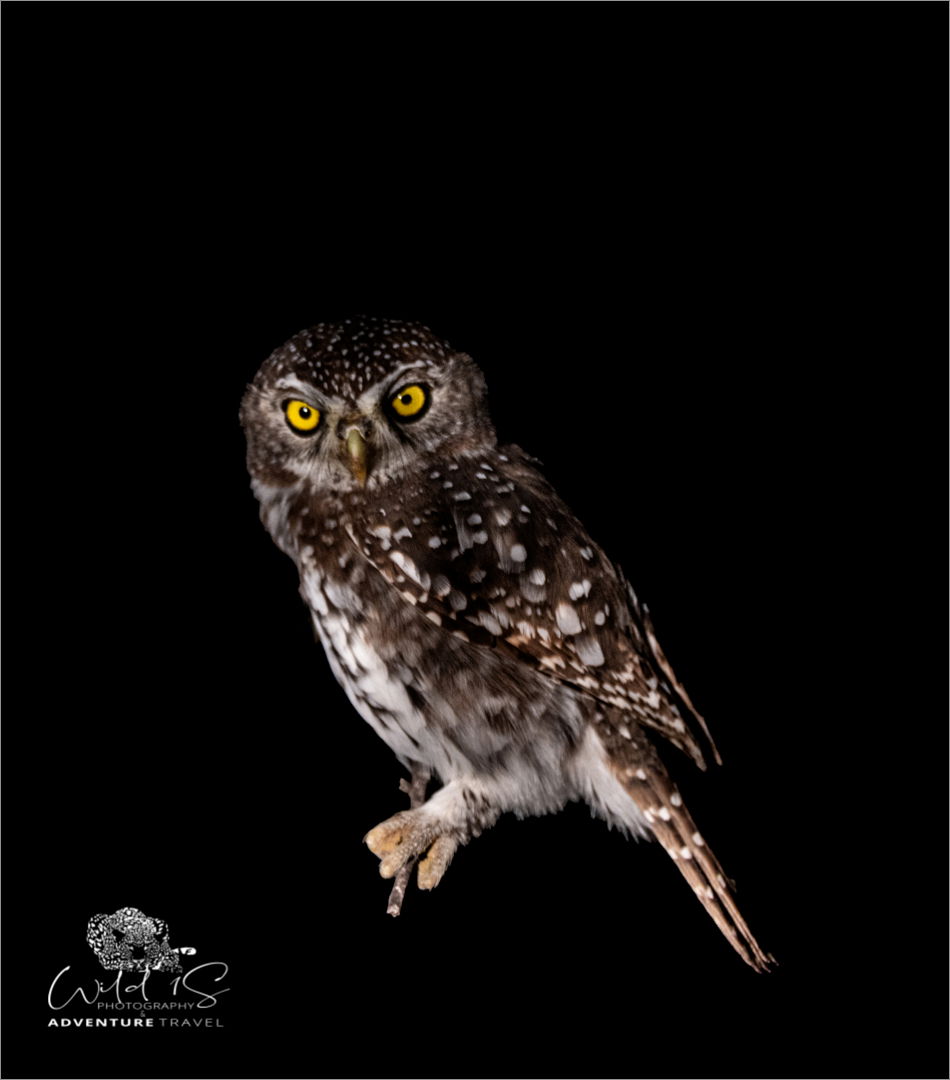 On our way back to camp, Pearl Spotted Owlet in night light.
Apologies for the lull in updates. Data signal was poor and then we travelled back. Anyway, out last drive at Djuma was rather quiet to begin with. Oh well, we thought as we stopped for a drink. There had been a few murmurs of tracks from Tingana, the dominant male from the north. We followed up his tracks and in a dense area, our guide and tracker went on foot. we suddenly saw Aubrey pumping the air with his fist and we knew it.....they had not only found him but he had just killed a duiker. We got to him in very dense bush where he was resting. He then proceeded to begin to eat snarling at us menacingly and protectively. After a while, we left him and got back to camp where a lovely breakfast awaited us after which it was time to pack up and say goodbye to the Djuma team and 2 of the group. We then headed for Antares Bush Campo and Umgede Hide in the Grietjie Nature Reserve, part of Balule. There we were pleasantly received and spent time in the hide. Not too much was seen and yours truly (Marc) decided to spend the night there. Not much seen yet exhausted but its a case of being there to enjoy the bush and face the prospects which may arise.
The next morning saw 2 of the group go on a drive and the rest of us spend time in the hide again where we on and off spent the day. Birds in decent numbers and variety and impala with great reflections were our subjects. The next morning, we aid goodbye to some of the group, spent more time in the hide, chased some elusive wild dogs in a vehicle and left. We passed by some friends in Hoedspruit and then on to Skukuza where we spent the night. On 24th we did the long drive home. Feel free to take a look at our Facebook page and Instagram where we will post images from this great adventure.
So that concludes the May adventure. Rich in opportunities and photos and now we look to June at Savanna and Antares.
So we began this adventure on 4 June by driving to Crocodile Bridge. That was safely done and we checked into that rest camp and unpacked. We then went for a quiet drive which was quite uneventful, the only highlight being a "flat cat" male lion. We then settled in to a quiet evening amidst the night sounds and special tranquility which the bush just seems to bring.
Up bright and early, packed and on the road on 5th June, little did we know what awaited us. We had hardly left camp when we saw a pair of wild dogs. We spent some time with them. We then moved on and found a male cheetah. That was followed by the rest of the magnificent seven after we had collected Gerald and Marie at the Skukuza airport. Ironically the last of them to be seen were the elephants.
We arrived at the awesome Savanna and after check in and a great lunch, set out. The predators bar a hyena which gave us great slow shutter panning eluded us as the wind blew. We saw numerous other game and came back to the lodge to a real Savanna spoil dinner which was accompanied by laughter, rounding off a real fun evening.
6 June started off really well. Well actually not really but anyway, we immediately saw evidence of cheetah. We followed up on that but were cheated by just not finding the cheetah we sought. A bit disappointed, all suddenly changed when we found a male cheetah. He gave us what we can only describe as a show as he ascended and posed on a "xidulu". He then left and went into some thick vegetation. We followed him and eventually saw why he had gone there...a herd of impala was near. The weather turned and we followed him. Our patience was soon enough rewarded as he thundered into a herd of impala, sadly missing his target. We stayed with him and while and then we returned to camp where a hearty breakfast awaited us. We then rested and, met for an early lunch as we had heard of a lion pride with cubs on a kudu kill. We left in search of them, pausing for a few sightings of interest. Life, our tracker, insisted we go to a usually barren area and was soon vindicated when we found another pride which had killed a buffalo and were lazing nearby. They gave us some opportunities and then we heard of a dominant male leopard which we decided to check out. This was towards sunset and rewarded us greatly. He had killed a baby monkey which he ate and then he moved and posed for us. Our delighted guests stopped for a sundowner as light rain began, so we decided to head back to camp to a delightful dinner, accompanied by light banter.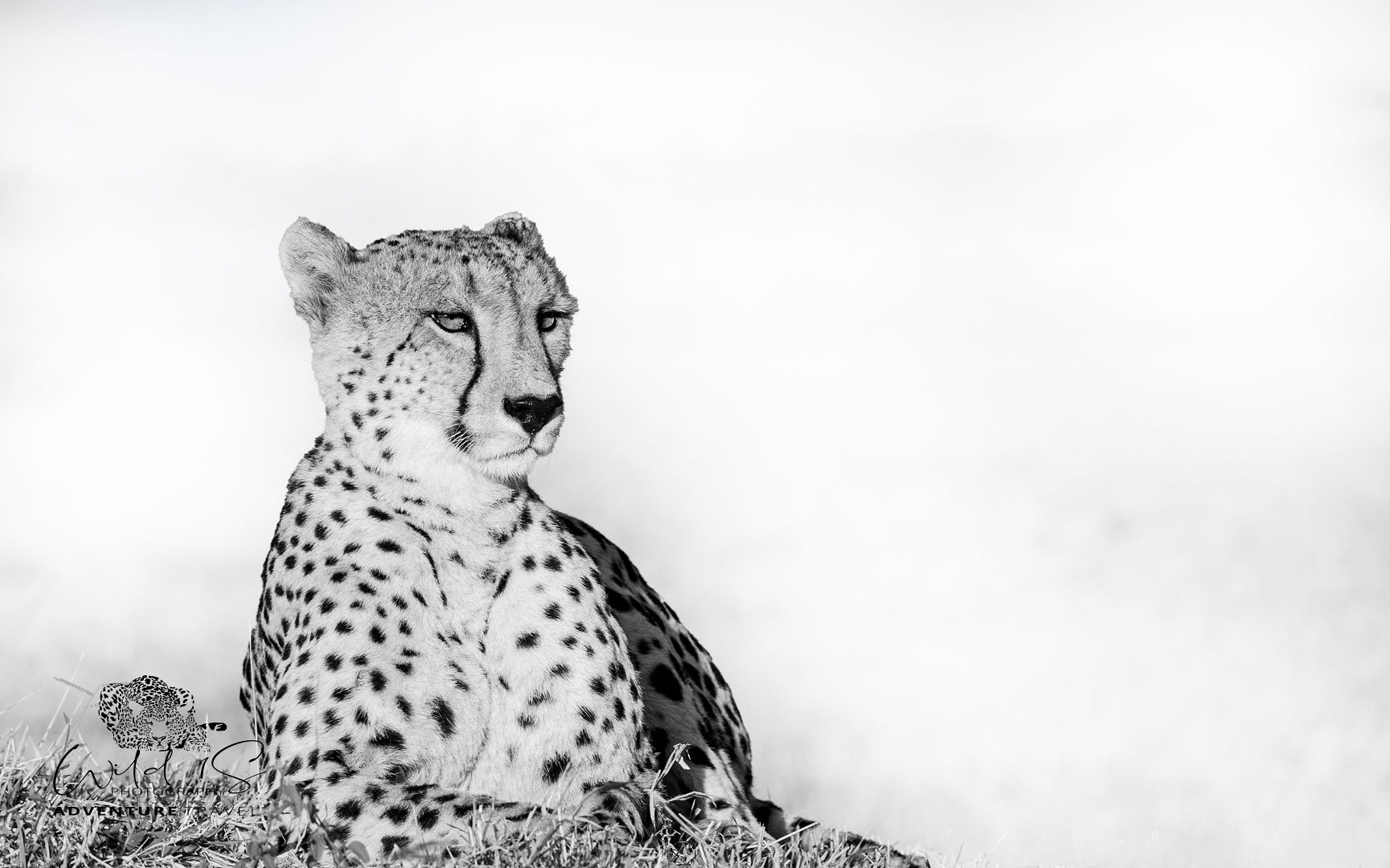 Cheetah on top of a xidulu.
If this morning (7 June) had a headline, it would be something like "Sublime Savanna's lionistic morning". We left Savanna Lodge on a slightly subdued morning and went back to the pride, known as the Mangene pride. This time they were very active, the 2 smallest cubs stealing the show as they growled, fed on the carcass and interacted with the lionesses, to our delight and photographic pleasure. After a time with them, Dan, our ranger extraordinaire, Dan, suggested we check out the Mangene Pride which had been on a kudu kill. This just delivered magic with perfect timing. We arrived to see 3 small (14 weeks or so) cubs interact with mom play fight, run, jump and just generally give us an action session second to none. Not to be outdone, this foursome were joined by another lioness and they began to move, the cubs bouncing along in animated play while doing so. Dan anticipated them correctly and thought they were off to drink. They duly did this and our perfect position ensured that we got the lionesses drinking with great reflections with the cubs around them while they did so. One of the cubs had a drink despite them being on milk, to our utter delight. We stopped at a very scenic spot for a comport and "celebratory" coffee break after which we looked for a leopard that we did not locate and so we headed back to the lodge for a sumptuous breakfast and a well deserved rest. The few guests images we saw said one thing......what a great morning it was.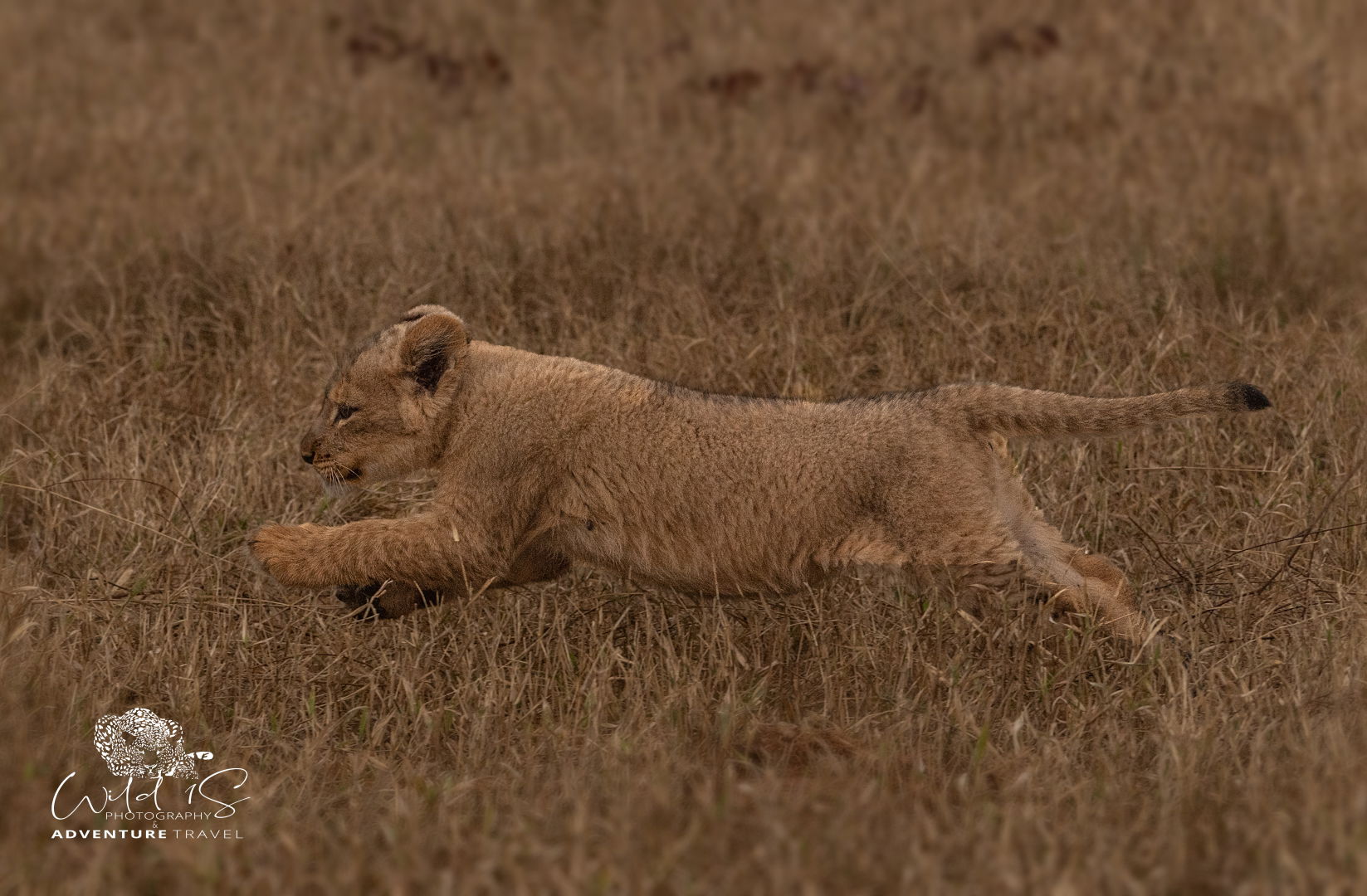 Cub in mid air.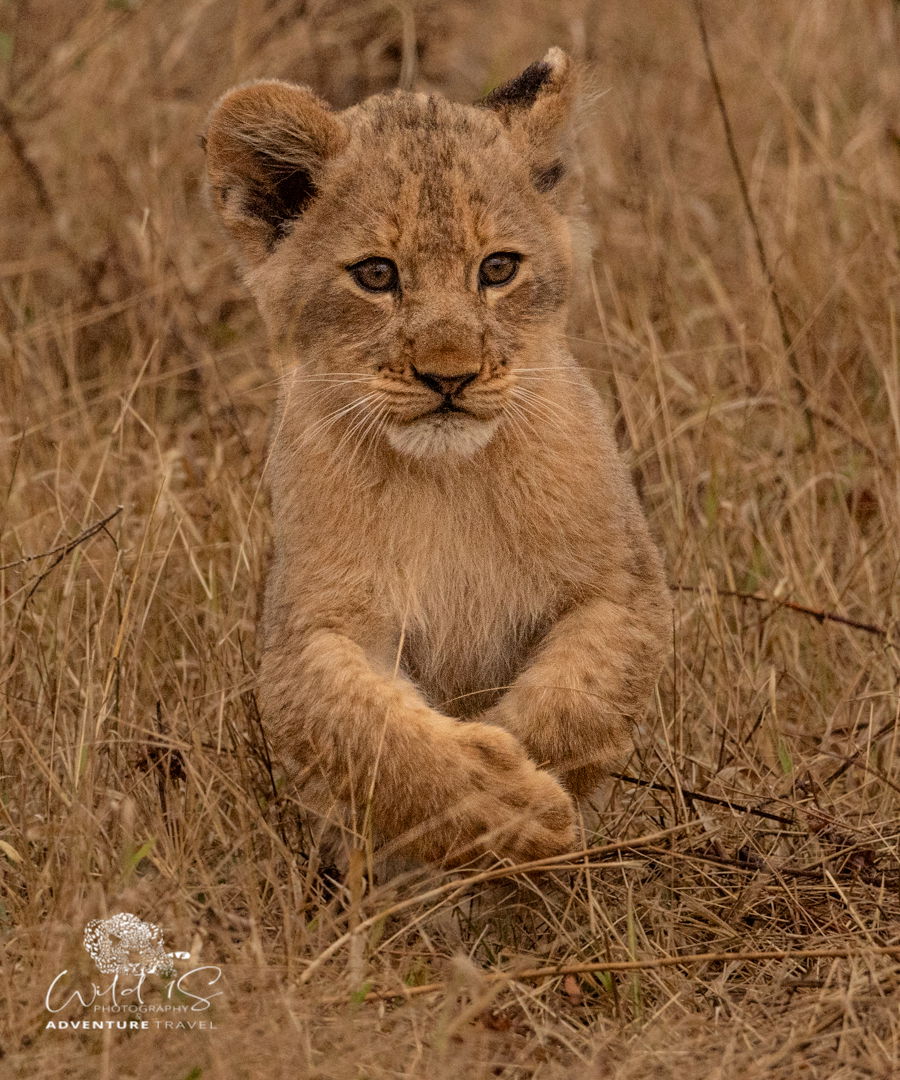 All action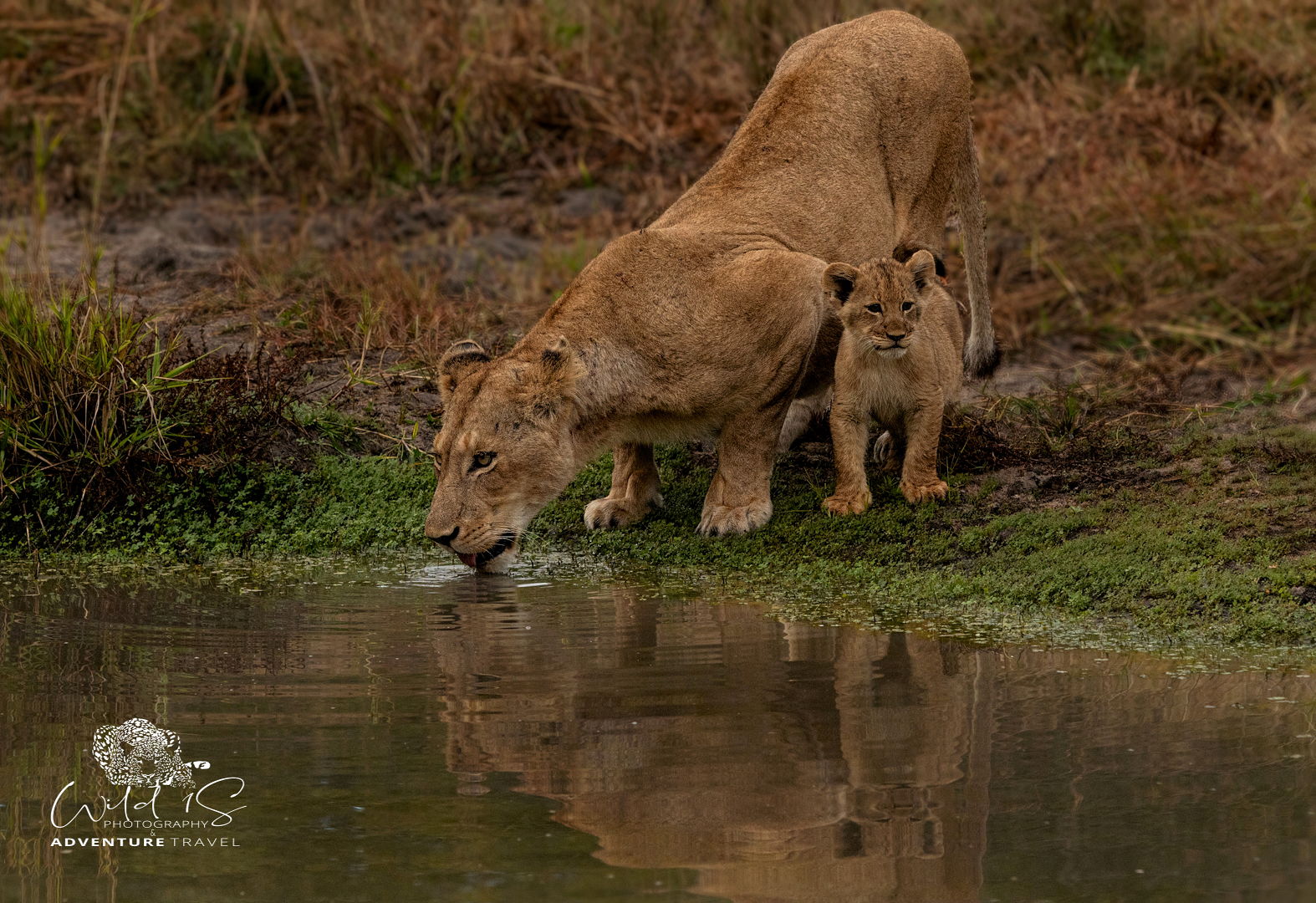 Reflecting with Mom.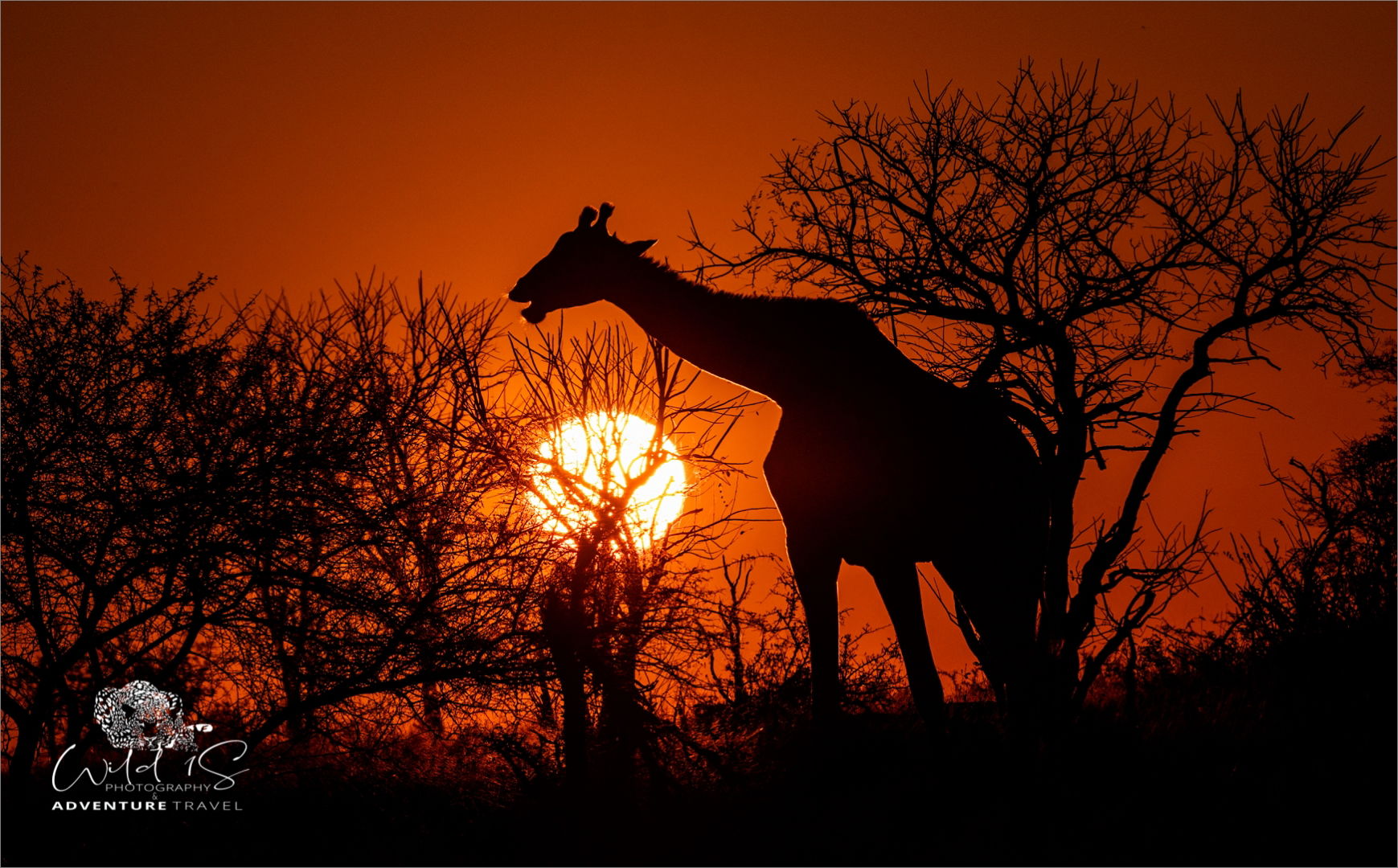 Kiss of Africa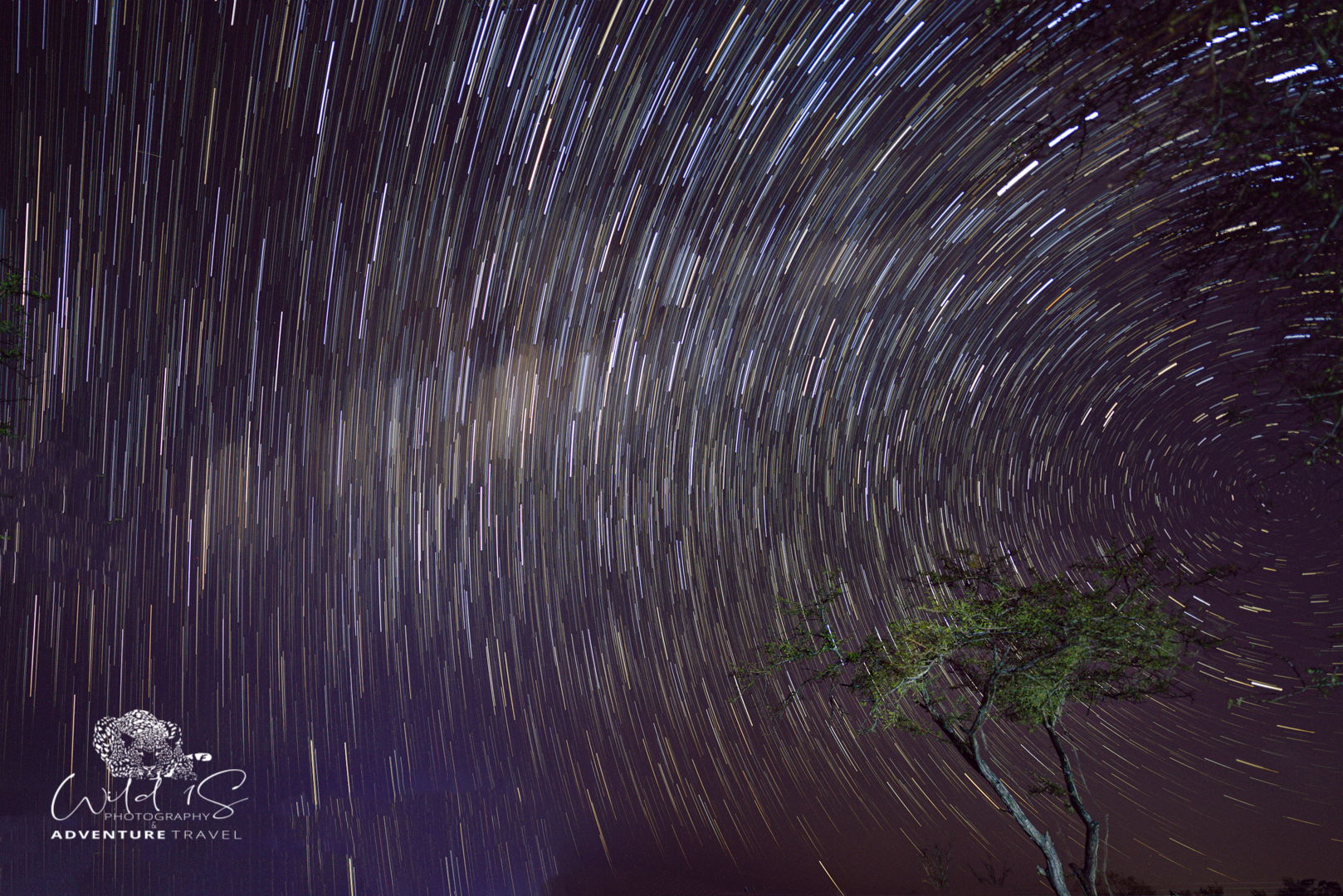 Lonely Tree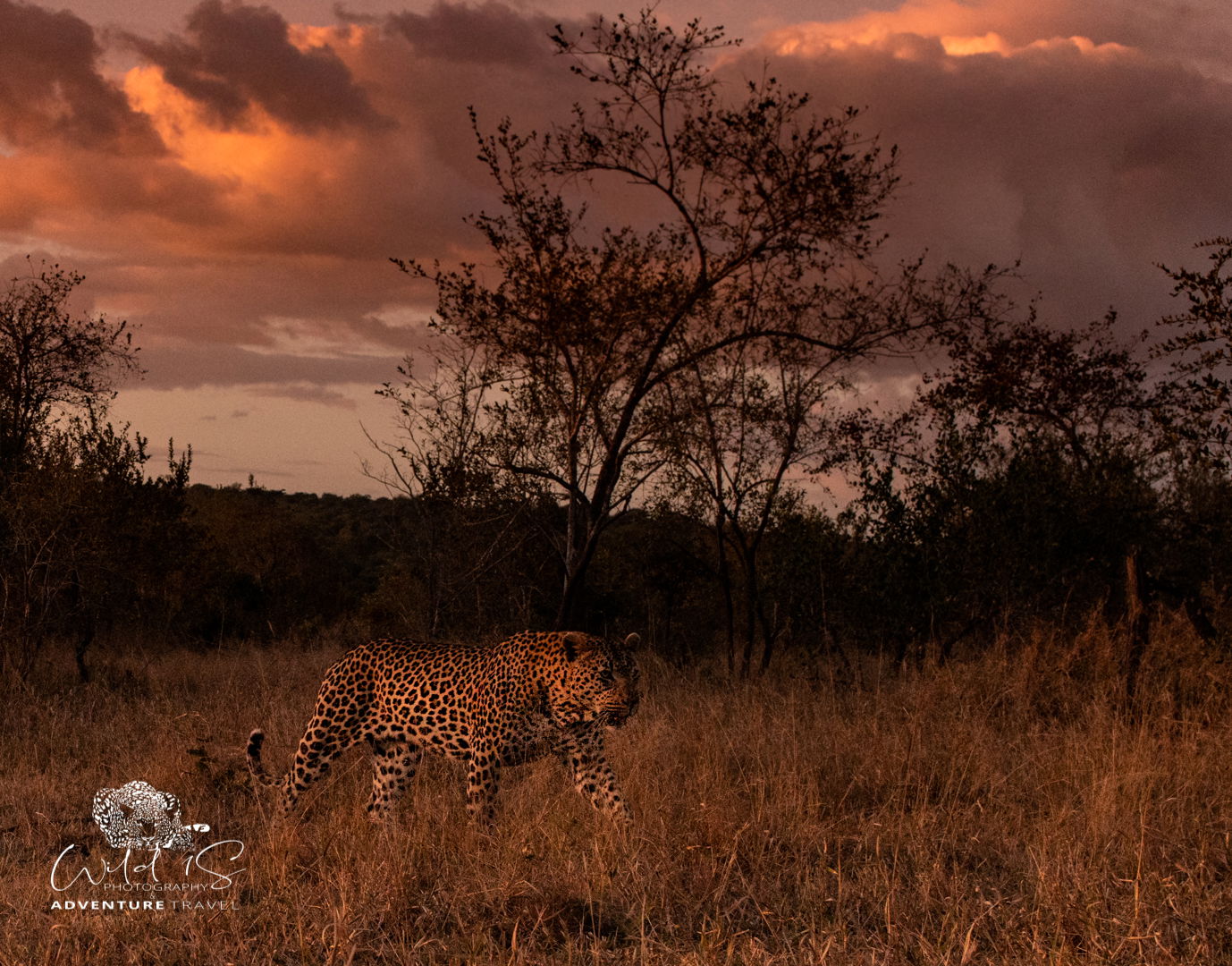 Mooded Sky
The afternoon announced itself as a rather moody one. After the morning we had, an air of expectation was to be expected. We travelled fairly far having been told that a leopard female and 2 cubs were visible and active. Sadly, that was not to be ad they were in very thick vegetation where they were in a den. We then went to look on some lions which we found on a dam wall. The sun had set by then but even so, there was no activity and so we left. Savanna being Savanna, we were surprised by a meal in the bush. The sight of the lanterns in the midst of the bush, the trailer which holds flushing bathrooms and the amazing food and service accompanied by the wines presented to us by Ken Forrester wines made for a most enjoyable and magical evening.
Well if yesterday was lions galore, this morning (8 June) was the same, yet different. We left on a crystal clear morning and headed to check out the Mangene pride and they were still at their kill, which is now nearing its end. This time the cubs put on an appreciated show as they played and fought with some feeding from mom and carcass as well. We also saw some discipline in action and that was all very early.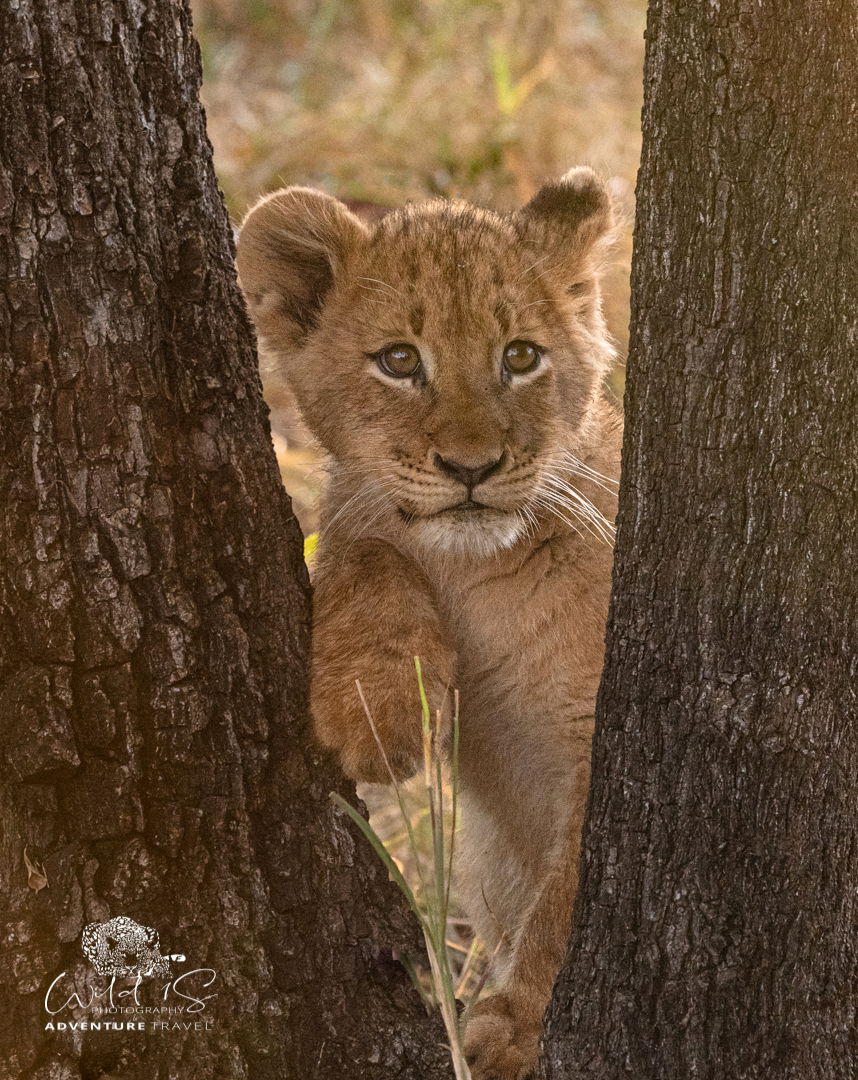 Curious cub.
We spent a good time with them and left to check on the Ottawa who we had heard were in a river bed. They to gave us a great show which included 3 males in company, one of which protected the cubs from another, a noisy if dramatic treat. we then found an older male leopard but he has rested up so we had a comfort and coffee stop and then slowly headed back to camp in time for a great breakfast, aiming to get back to him later, hoping he will get active. We left on drive on a slightly cloudy and very scenic afternoon. We soon enough arrived where we had left our leopard and he had left. One of the lodged in the area had scraped the path which made tracking him challenging. We did not find him and others who were out had no better luck on leopards which really does show that it's all about being in the right place at the right time and of course skilled rangers and trackers help greatly. We still had a great drive seeing rhino, elephant, general game and after dark a spotted eagle owl and a naughty young hyena. We also stopped to photograph a majestic sunset over a waterhole. We later returned to the lodge where the managing couple, Ian and Natasha joined us for a most pleasant dinner rounding off a really great evening.
9 June can only be called "Leopard day". We left to a cold morning. After a while of following up on tracks, all while seeing a great sunrise and a few other species, the best of which was a hyena who we shot with slow shutter speeds, we found a beautiful male leopard called Thamba who posed on a mound making for some great photography. He then moved on to a property to which we lack access, sadly ending out sighting. We were then told of a mating pair of leopards together and so made our way to that. We found them on a dam wall and witnessed them mating, a true spectacle which we are hoping to see more of.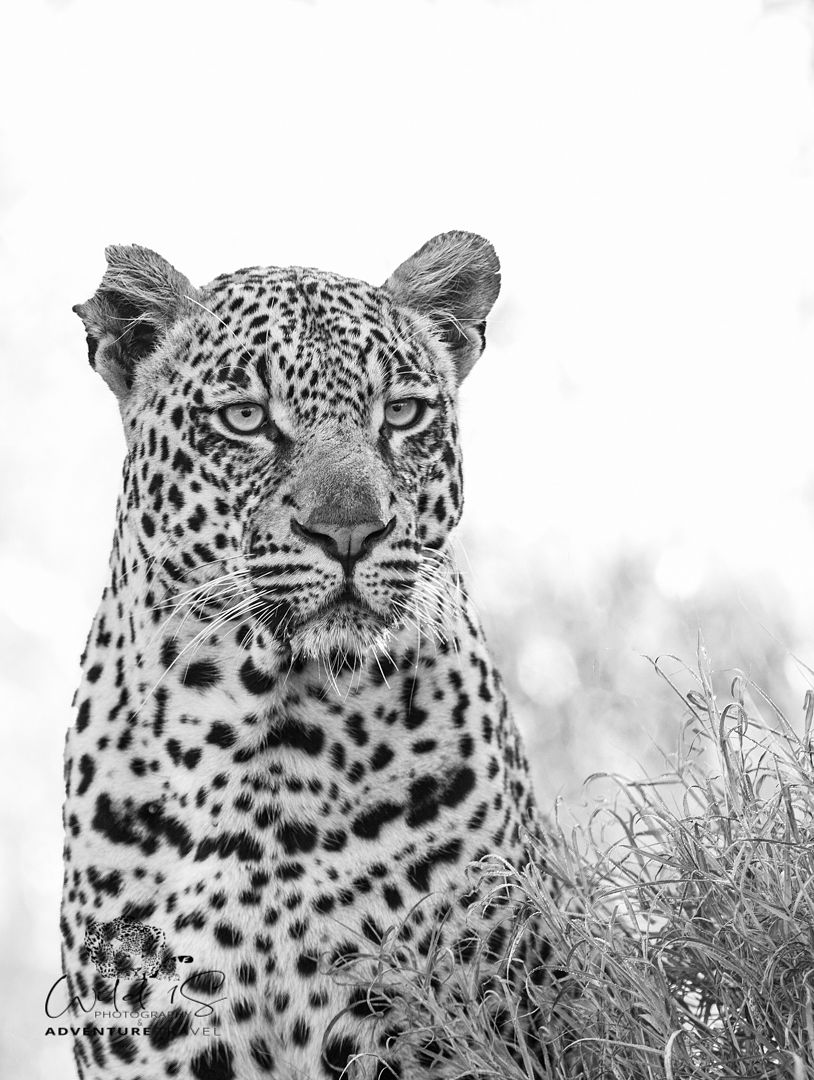 Thamba
And so it was!!! When we thought it was unlikely to get better, IT DID!! We went out and looked around, finding a good bit of general game and a threesome of rhinos which did us a treat. we then found the mating pair of leopards and they positioned just as we would have wanted for us TWICE, giving us amazing shots of them mating and stopping. We were OVER THE MOON as the saying goes. We then left them and were called in to a huge crocodile who had a large impala in his mouth. We then stopped for a celebratory drink and small sunset photo opportunity of our amazing group before returning to the lodge where a super meal in the boma, accompanied by top class local entertainment awaited us.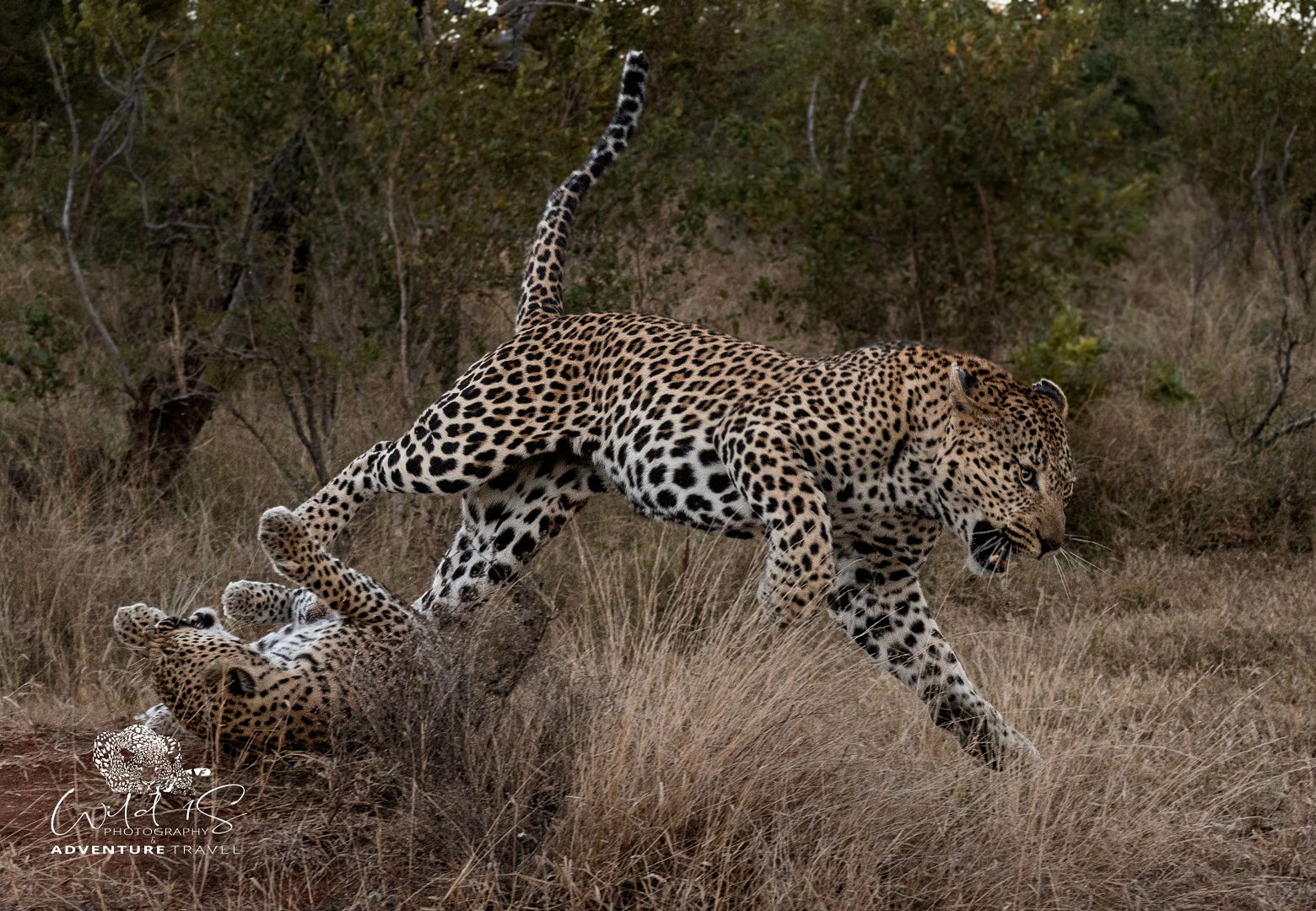 Mating pairs
The morning of 10 June of course stared with some expectation, and some apprehension for the hosts. True to what had become form now, Dan and Life did not disappoint and soon enough, we were within reach of the Ottawa lions pride......but unable to fine them. Their tracks suggested that they had not moved, hardly the norm for lions after a ew days on a kill. Anyway we soon enough located them, helped out by a few nervous zebra, who had reason to be as they moved into a clearing near the zebra. The light was just fantastic and so the cameras had much to do. They then moved into some dense vegetation and we followed them in. There on a cut line, we got entertained to a cub display of playfulness and photographic opportunities which delighted everyone. We then decided to leave them in search of two male leopards some way away. On our way, we changed plan as we heard that the mating leopards had been located closer to us. Our last drive's end was fast approaching. We found them and witnessed the power of them mating twice before leaving them and stopping for some elephant. It then came to the end. After a Savanna breakfast, that means awesome, we packed and said our sad goodbyes and left for Antares.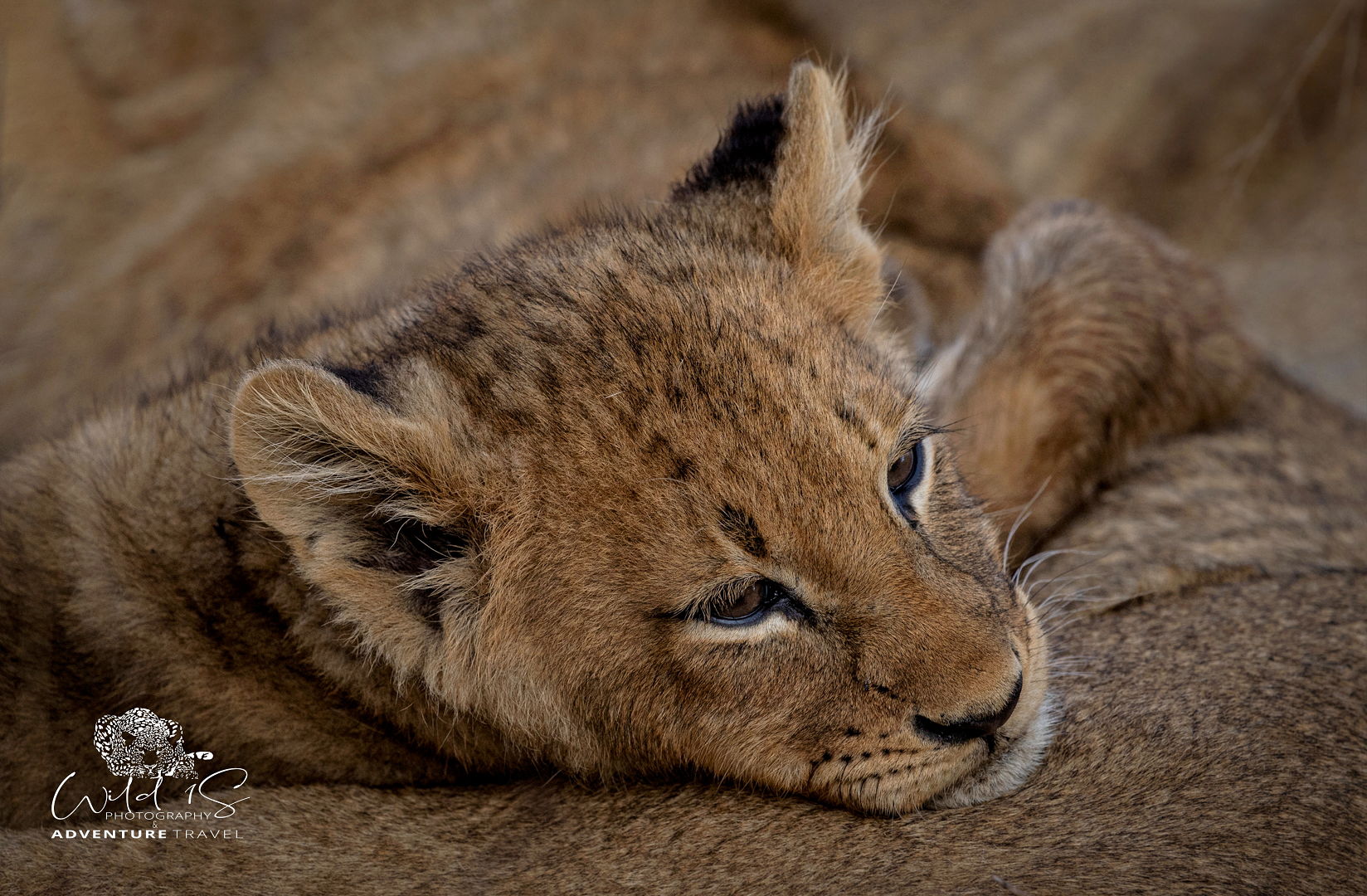 Comfort itself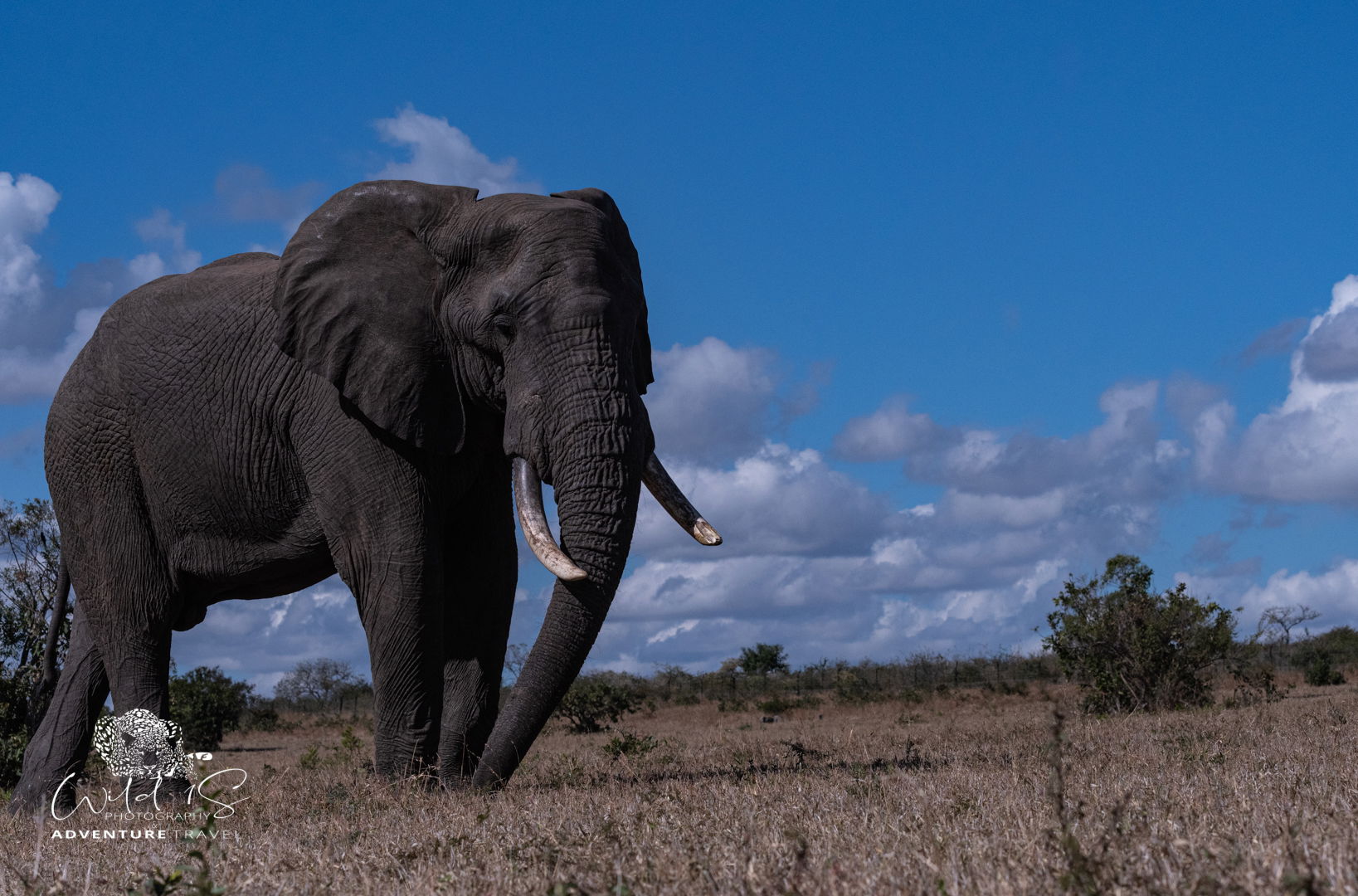 Shot from the ground, a great perspective of a bull elephant.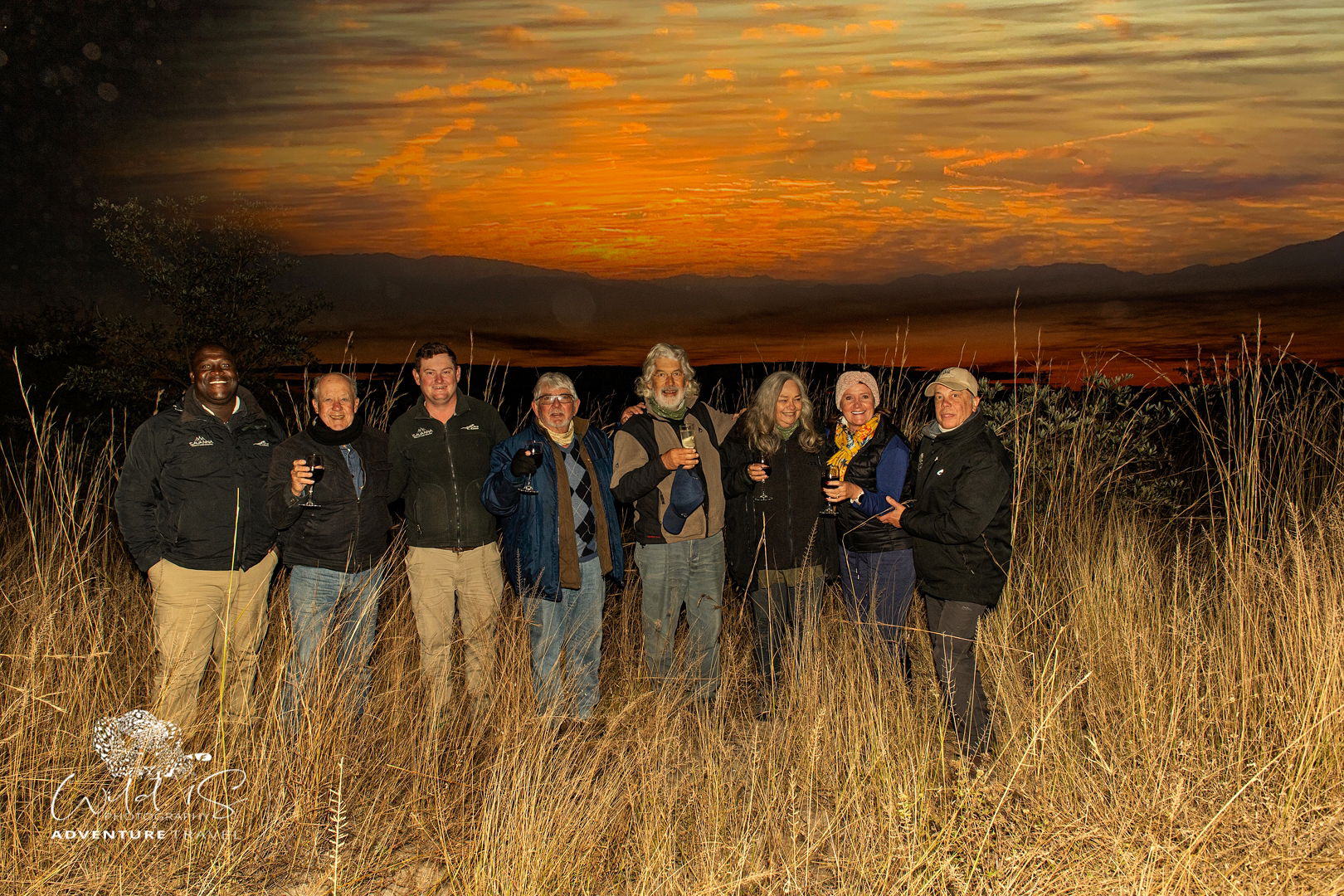 The Savanna June group against a splendid sky.
We stopped to collect a replacement camera and some provisions in Hoedspruit and arrived at Antares in the late afternoon. Our late afternoon and evening were rather photographically quiet but nothing a nice drink and great meal could not help.
We awoke, well, those of us who did not stay up all night or so, to a splendid but fairly quiet early part of day. Then came the magic. Up close and personal, at the Umgede hide we were treated to no less than 6 elephant appearances. These ranged from a single bull, a pair and 4 herds who treated us. We got it all, reflections, displays, varied behaviour, young and everything in between. WE WERE IN OUR ELEMENT!!! Just insane!! I will not forget a guests comment "well, more to download now" and that was not after the last sighting of them either.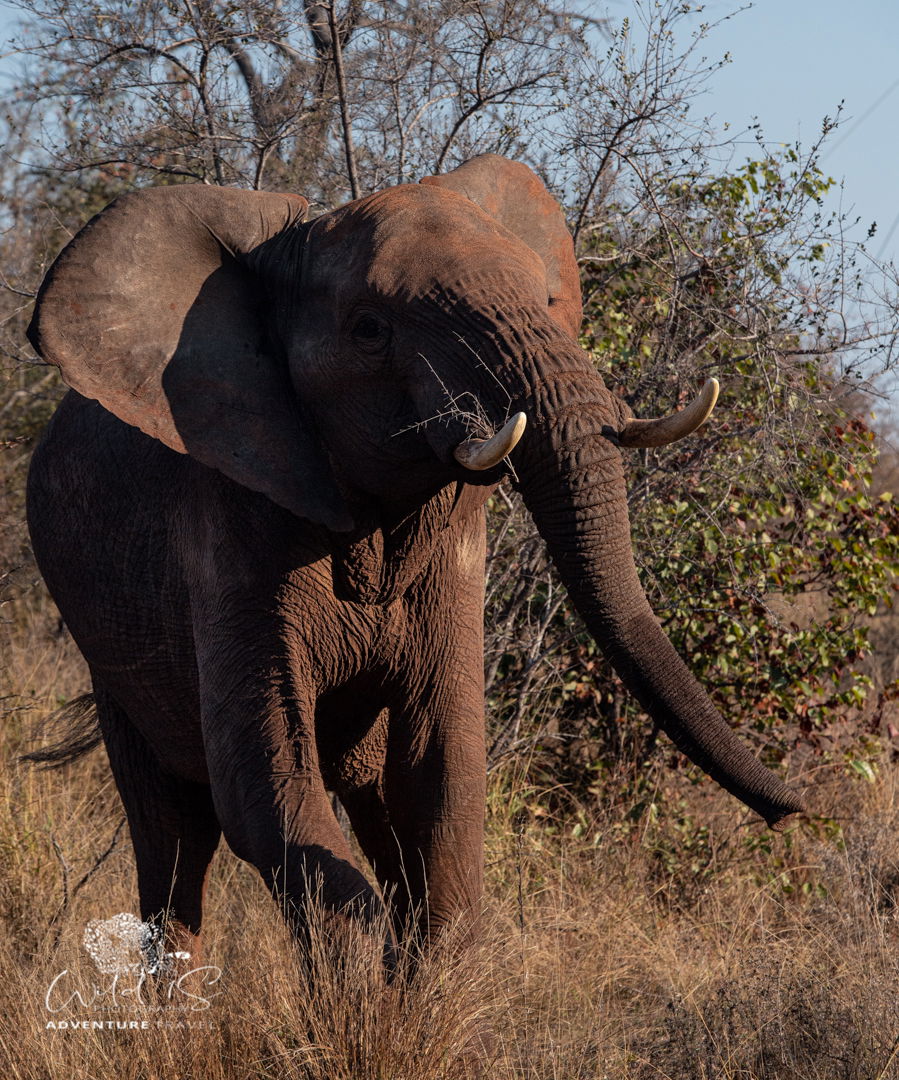 Anger expressed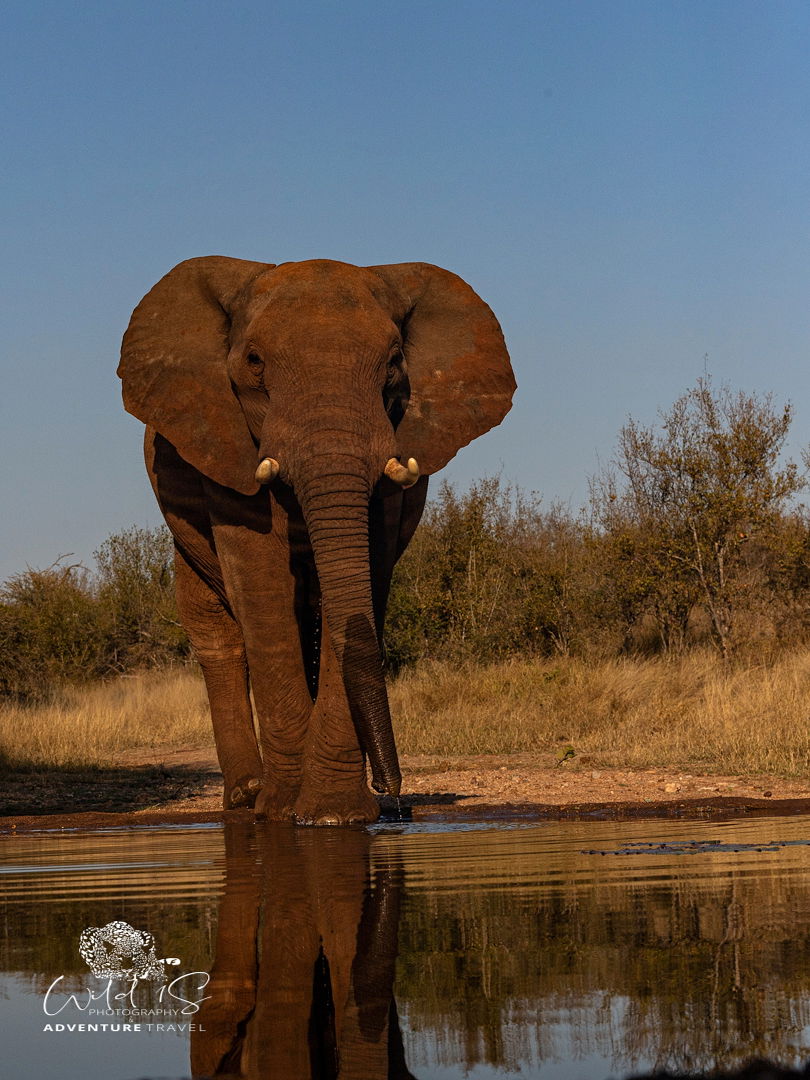 After Antares ended and we said our goodbyes tp a fabulous group. We had decided to stay in the area between the June and July groups. We did some remote work in between but went to Orpen, Hoedspruit and Satara followed by our timeshare near Paul Kruger Gate. The Orpen stay was rather quiet although all quiet times tend to have their high points and this was no exception. The Hoedspruit stay was with the Marvelous McDonald's, great friends and hospitable to a fault. Better not say too much or you will all want to visit them! There we did our best ever photography of the Galago's, winsome little creatures which visit the "Mac's" unceasingly and under the watchful eye of the maestro, how could we but get pleasing images.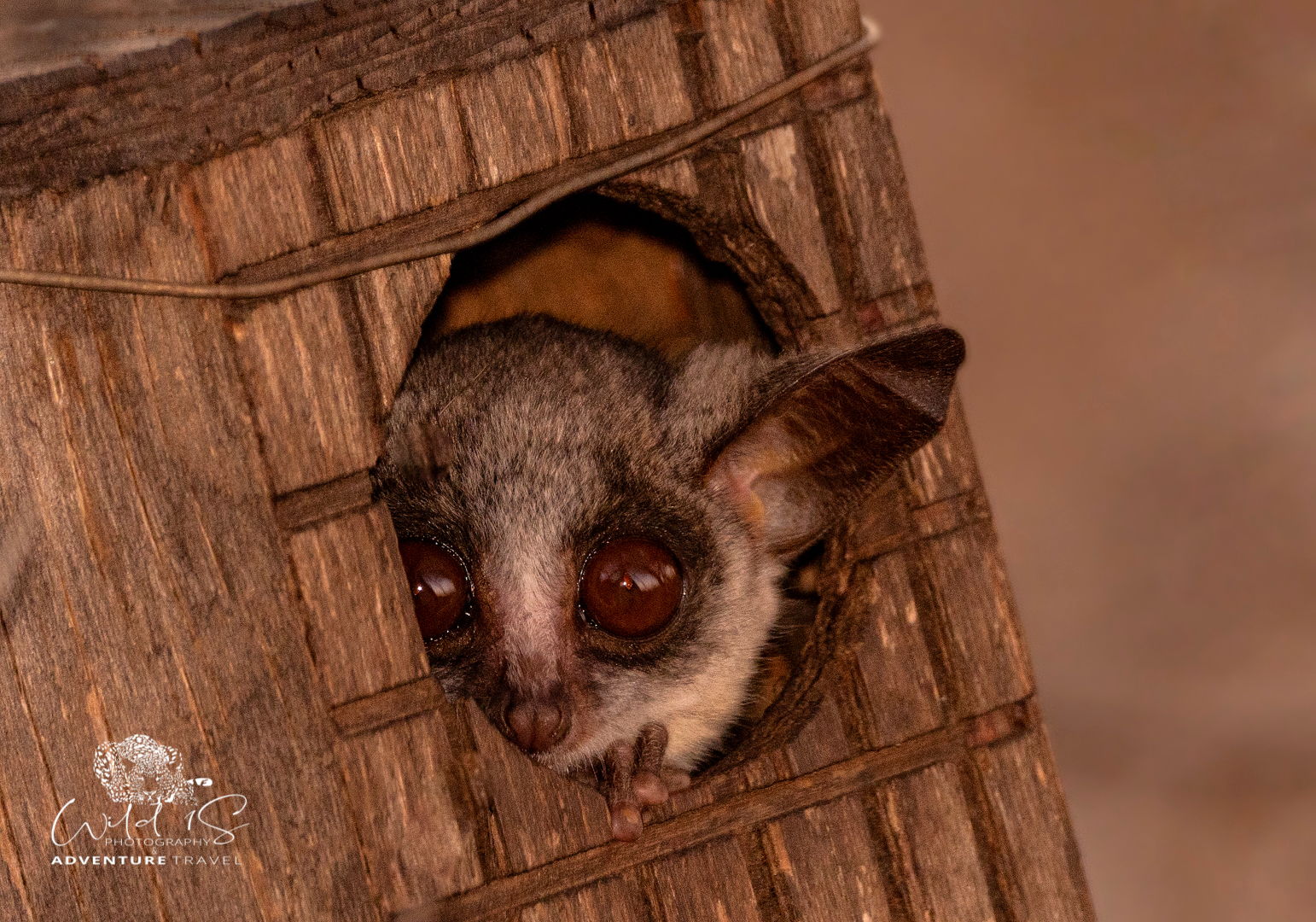 Galago, cute is the word!
As we left Satara, we had an epic day with the highlight being a pride of 16 lions in prefect light, not to mention a pride of lions on a hippo kill and a leopard on a warthog kill....all on a day when we needed to get to Komatipoort to fetch supplies and get back to the timeshare ! Exhausted and happy go well together!!
We then had the McDonalds join us for 2 wonderful days, even though we had a touch of rain and a great session at Lake Panic. We then went to Letaba for 2 nights. What this part of the Kruger lacked in game, it made up for in scenery and we had a best ever Saddle Billed Stork shoot. The amusing highlight came in the form of a honey badger night visitor. Stella had gone to bed early and exhausted and I (Marc) was on the verandah just taking in the peace of the bush night when I suddenly sensed movement. Less than 1mt away from me was a honey badger checking out our bin. Had we not seen a documentary showing their tough and sometimes aggressive ways. I froze...and he left. I woke Stella and in no time we were out and about, torch in hand and looking. Perhaps we have a disease called "bushitis" or something. Stella returned to bed. Something like 20 minutes later, I again sensed movement and there he was again. This time he jumped on to the low wall some 1.3mt away and checked the bin before he saw me. He froze and stared into my eyes. I kept my cool as I realised that to my right was a fridge, to my left a fairly heavy table and against my back the wall. I had no way of escape or to call Stella (to see, not hide behind!). I gently lifted my phone and took a few shots of him. He continued to star into my eyes. Fear gripped me as I recalled his triumph over lions and leopards in that damn fear inducing documentary. How do I get this to be over. GO, I shouted. He did.....and I immediately regretted that I had not left him to stare at me for longer....or that I did not have a better camera on me. Oh well, next time.
Back to the timeshare, we have had a great time. We of course see less than we do in the Sabi Sand but still we see good things, like 8 tiny lion cubs playing. we also have kills in trees which we wait hours for, to t no avail and we have shot bee eaters and sunbirds on aloes. Each day brings a new magic.
Our Kruger leg ended with the Reid's coming to join us at the timeshare unit en route to Elephant Plains, Sabi Sand. On our way we had some great lion sightings as well as a great sighting of a juvenile bataleur eagle and 2 hiney badgers. We arrived at Elephant Plains on 2 July and after settling in, briefing and formalities and a great lunch, we prepared and set off, little knowing what awaited. Between us and our guests, we have had a good few drives in the Sabi Sand........but we managed to set a time to sighting record. Hardly were we mobile when we knew of a leopard and then another. We decided on a female who has cubs as she was headed towards her den. We found her in some thick vegetation and almost immediately, she headed to a small pan where she drank, giving us some really great expressions and of course, images. To see the guests faces and hear of their obvious delight was all the reward we needed. We followed her and she made sure that we would work for our shots of her, zin zagging her way through the bush, eventually settling on a mound where we were favoured with her expressions, animated by 2 nearby hyena. She moved on as the day was easing into night and we followed again. Suddenly, there was a noise and a reaction by the hyenas and in a flash, there was a brief stand off between them, her and a honey badger who left before we could photograph him or her. Th leopard jumped into a small tree from where she hissed at the hyena who eventually left her. She then came off the tree and headed towards her den. We then saw her attempt a hunt on impala and something small which we could not identify and we returned to the lodge for a great dinner, some enjoyable banter and then went our separate ways to download, rest and be ready for 3 July. A greater start we could hardly have expected.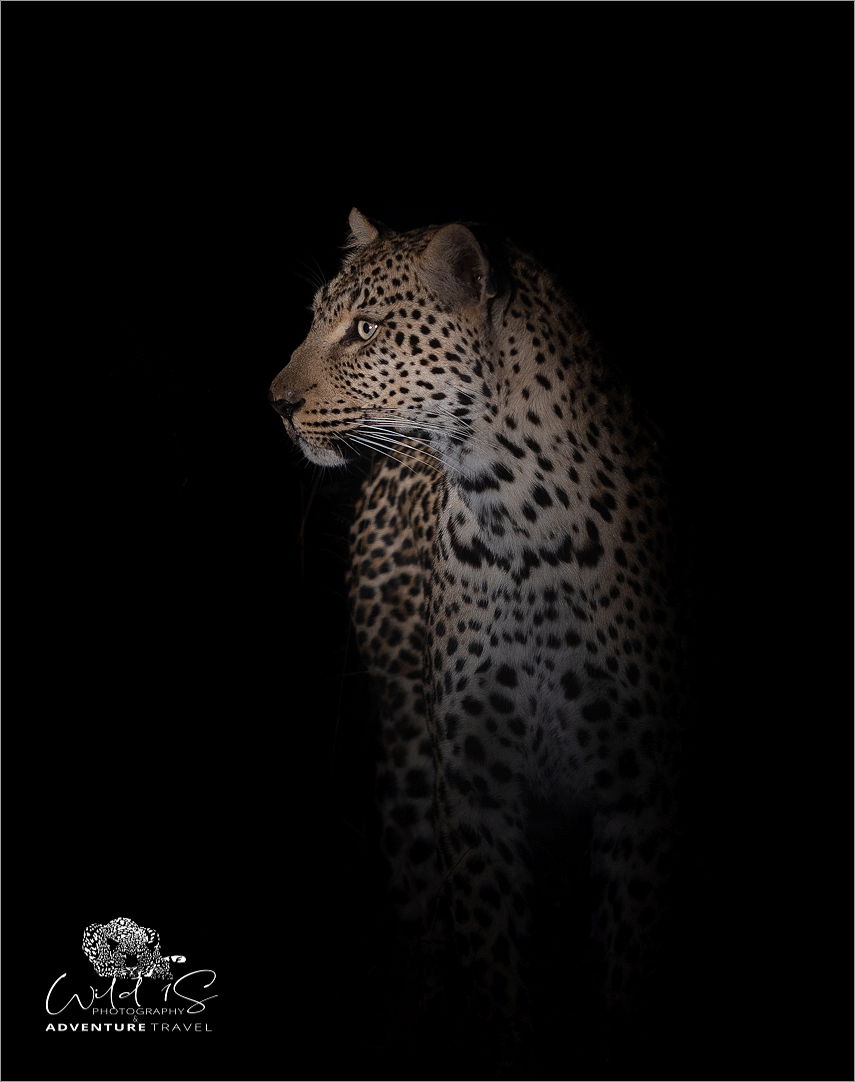 Queen of the Night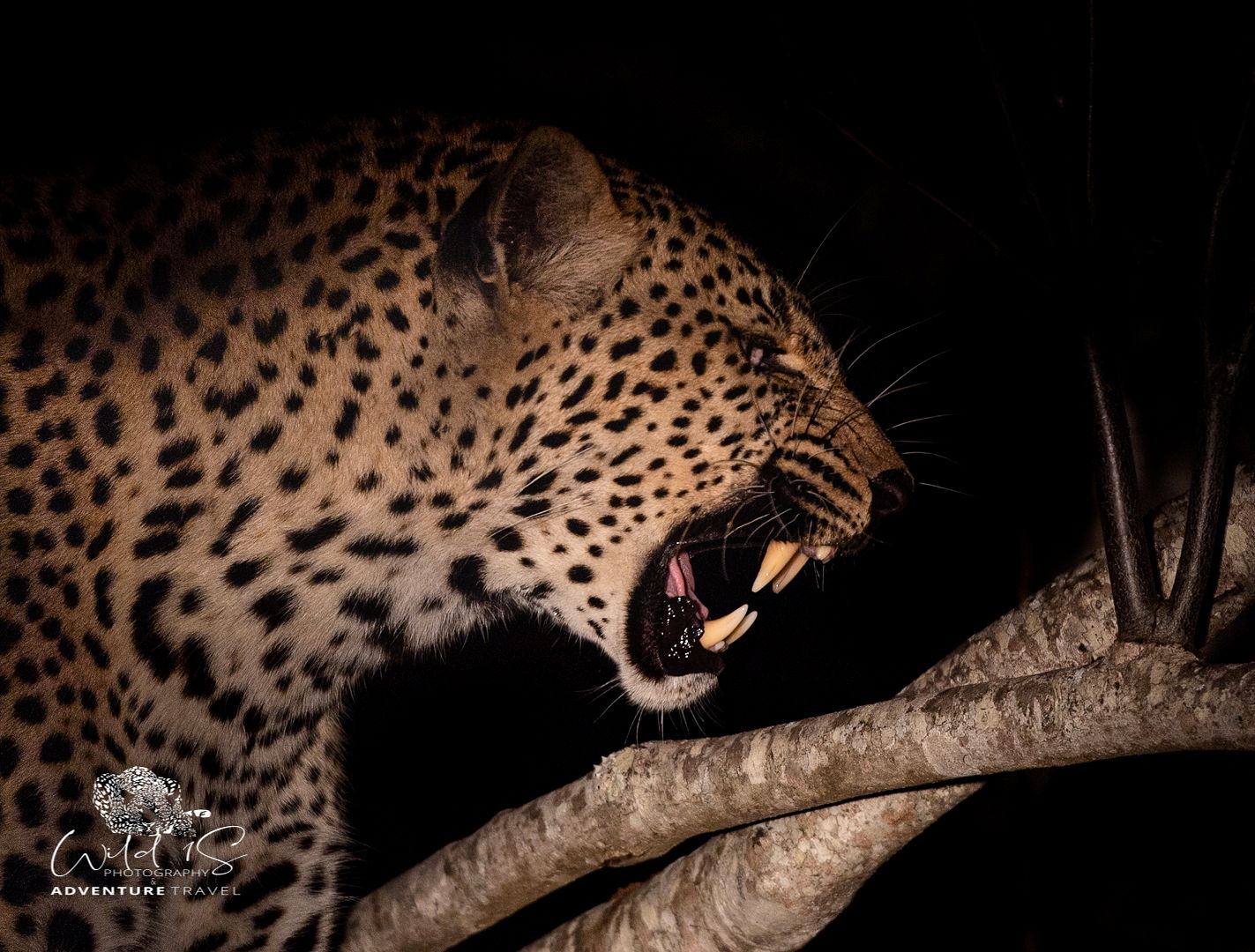 Unwanted company warned.
The morning 3 July started brisk but not too cold and the anticipation was tangible, scary as host. Again within a moment, we had a few options. We had a lion pride, the Nkuhumas which we chose to follow as they were on the move. We found them before the light was up and followed them as they move, something like 12 of them. Delighted we were as they moved towards Big Dam and we were alerted that wild dogs and hyenas were fighting at the dam. Action we expected. We got there in time to see the wild dogs leaving. Did they know the lions were approaching. We made the call to stay with the lions rather than follow the dogs. They came to the dam and drank thirstily, 10 lions at that stage, mainly lionesses and a sub adult male. Suddenly we heard a noise and a lone hyena had come to eat some scraps. We had watched a documentary "Eternal Enemies" on the conflict between lions and it played itself out 20m from us as the lionesses swiftly put and end to his existence, showing us just how harsh nature can be.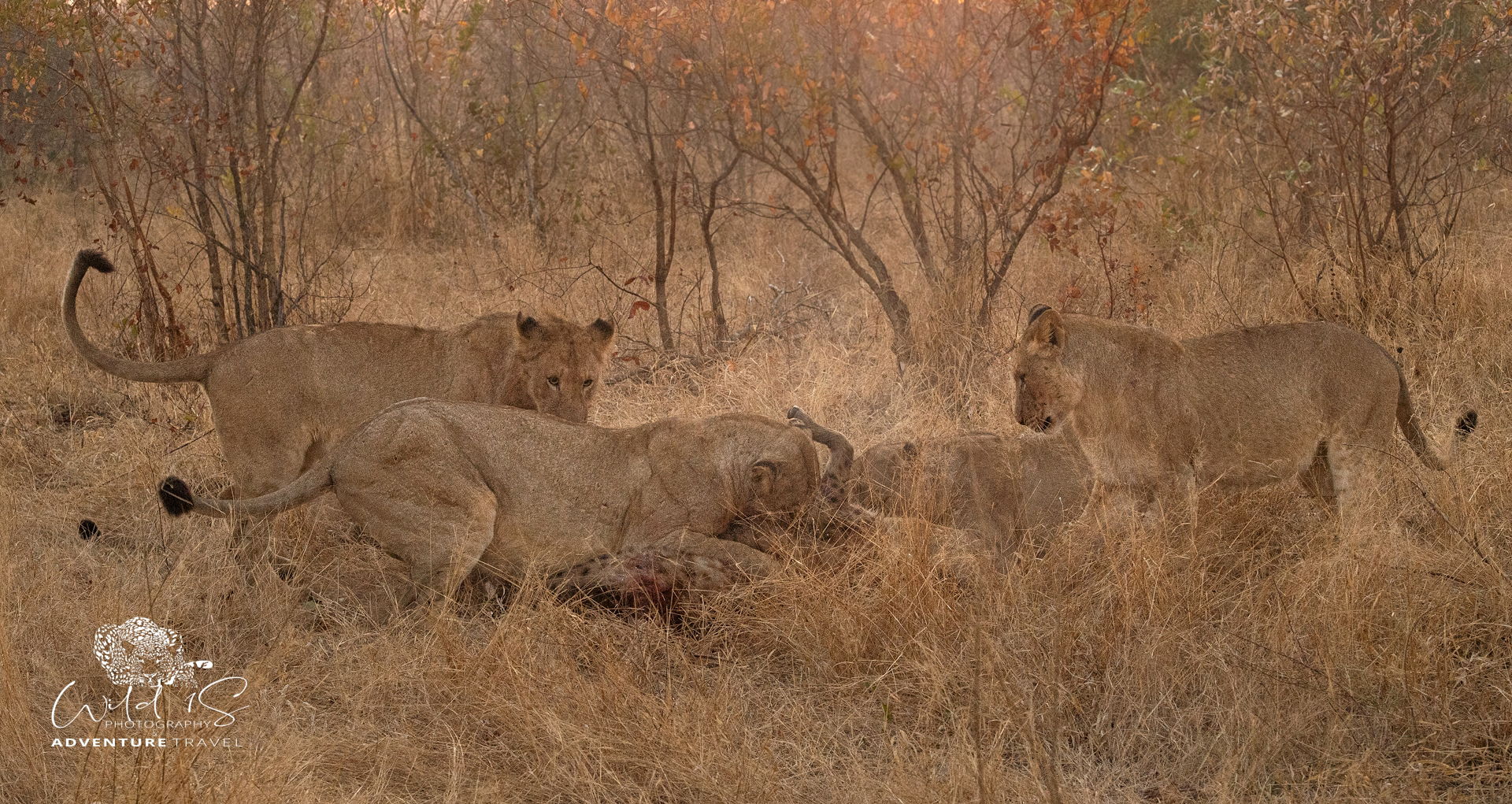 The final moment, hyena's life ends.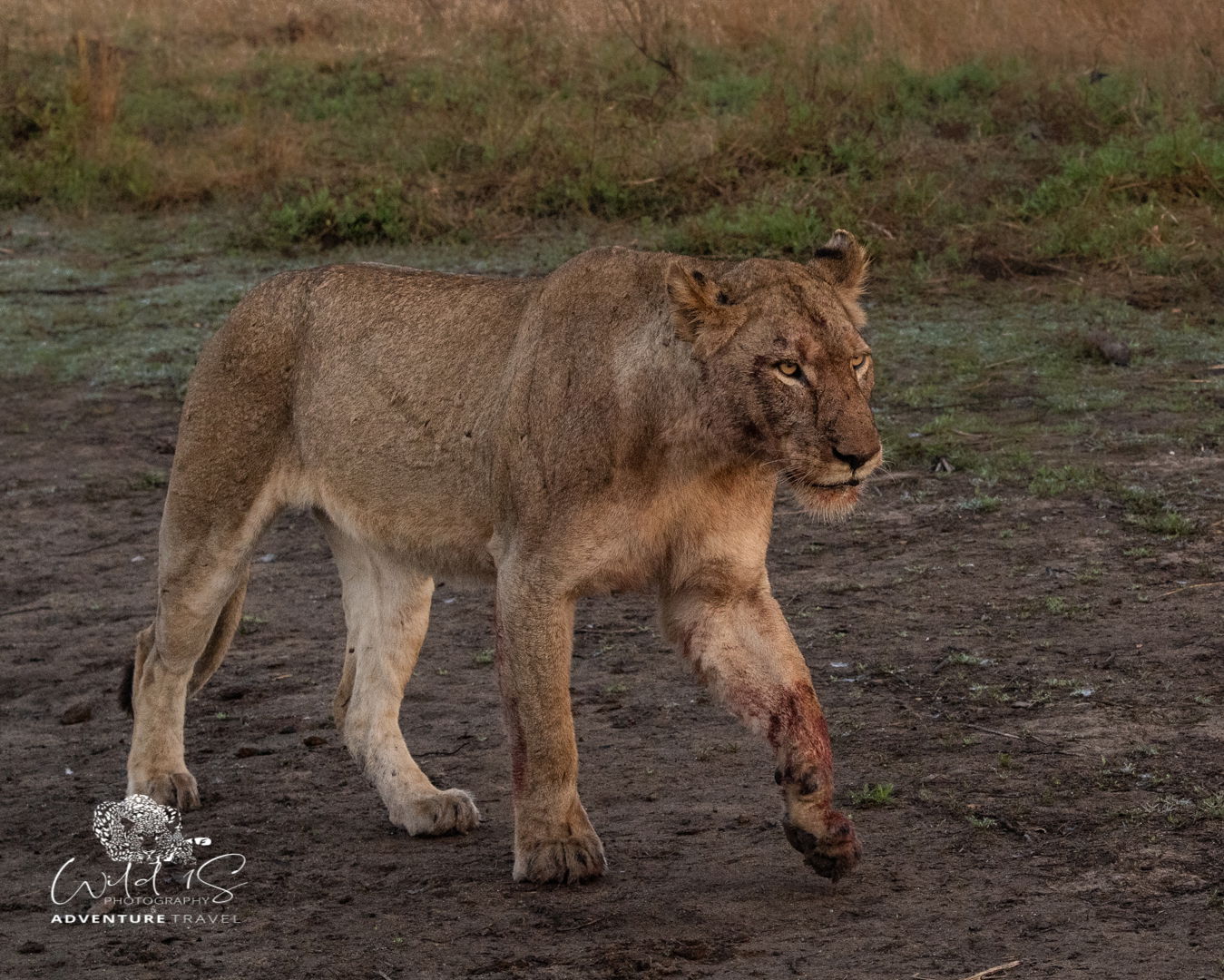 The lioness that killed the hyena.
We then stayed with the lions a while longer before leaving them and heading for an Avoca male we had heard of. We found him on a airfield and were entertained to the most amazing vocalization, music of the wild. We followed him and got many a great shot of this majestic beast. We then found yet a third lion sighting, 3 Nkuhuma females but they had settled into what lions do really well, lie about, so after a short time we left them. Our coffee stop had a rather celebratory air about it as we chatted about our great start after which we returned to the lodge for a great breakfast, some photographic assistance and free time. A wind has come up so our late drive may prove a tad less productive but let us see....... Well, the afternoon despite the wind did not disappoint. We saw 2 different leopards who gave us plenty to pose about. We then located 2 male lions which we had hoped to backlight. Sadly they preferred to lie flat than be photographed so the shoot was a bit muted. We then to the lodge where one of the best fillets we have ever tasted was our main course.
The morning of 4th July started chilly. We soon enough found ourselves a 2 female leopards which entertained us and gave us great opportunities in awesome light. Brunch was followed by an interactive editing session and some rest before we set off for the afternoon drive. After a short while we found a female leopard who just took up our drive!! She gave us a great reflection opportunity followed by a huge impala hunt attempt which she ultimately was detected on and then tried a steenbok hunt which we followed and we then lost and left her, wishing that she will succeed overnight as she is a young mother. We then went back to the lodge where we enjoyed a super boma dinner before retiring to some well deserved rest.
The chilly morning was a tad quiet with indications that lions had crossed to where we do not traverse before we were alerted to the fact that a male leopard had made a kill and was in a tree with it. We are really experiencing great leopard sightings. We got ourselves there rather quickly and there he was......the male know as the Flat Rock male in perfect light in a marula tree with his impala kill with a hyena hovering below catching scraps as he devoured his meal, pausing briefly now and again to give us some amazing stares, the glorious morning catching his expressive eyes. Shutters clicked away and we varied our exposures for varied effects. Sadly we made way for other vehicles but were told that another usually elusive male was located, on the ground. We got to him but this one was a true "flat cat" so we enjoyed his company and grabbed the few expressions he gave us before we left him to return to the lodge for a sumptuous brunch which was followed by and edit workshop. In the afternoon we set off with an air of optimism about us. For sometime, we searched without any results and then heard that the Flat Rock male was down from the tree in which he had his kill. We went there and sadly, all we found a "flat cat" instead of a "Flat Rock" male. We left him and looked for Hosana, another large male, but he had sadly moved and our best efforts, even on foot, were fruitless. We had decided to search around and get back to him with a view to photographing him under spotlight, hopefully with the assistance of another vehicle for some back light. We were told on our approach that he was back in the tree feeding. The sight that met us was amazing and so the shutters clicked away. There was a hyena eagerly anticipating scraps from the kill and this male proved rather generous to him. We missed the back light opportunity but were privileged to see him finish his kill and leave the tree, even though he did not do so quite as we had anticipated.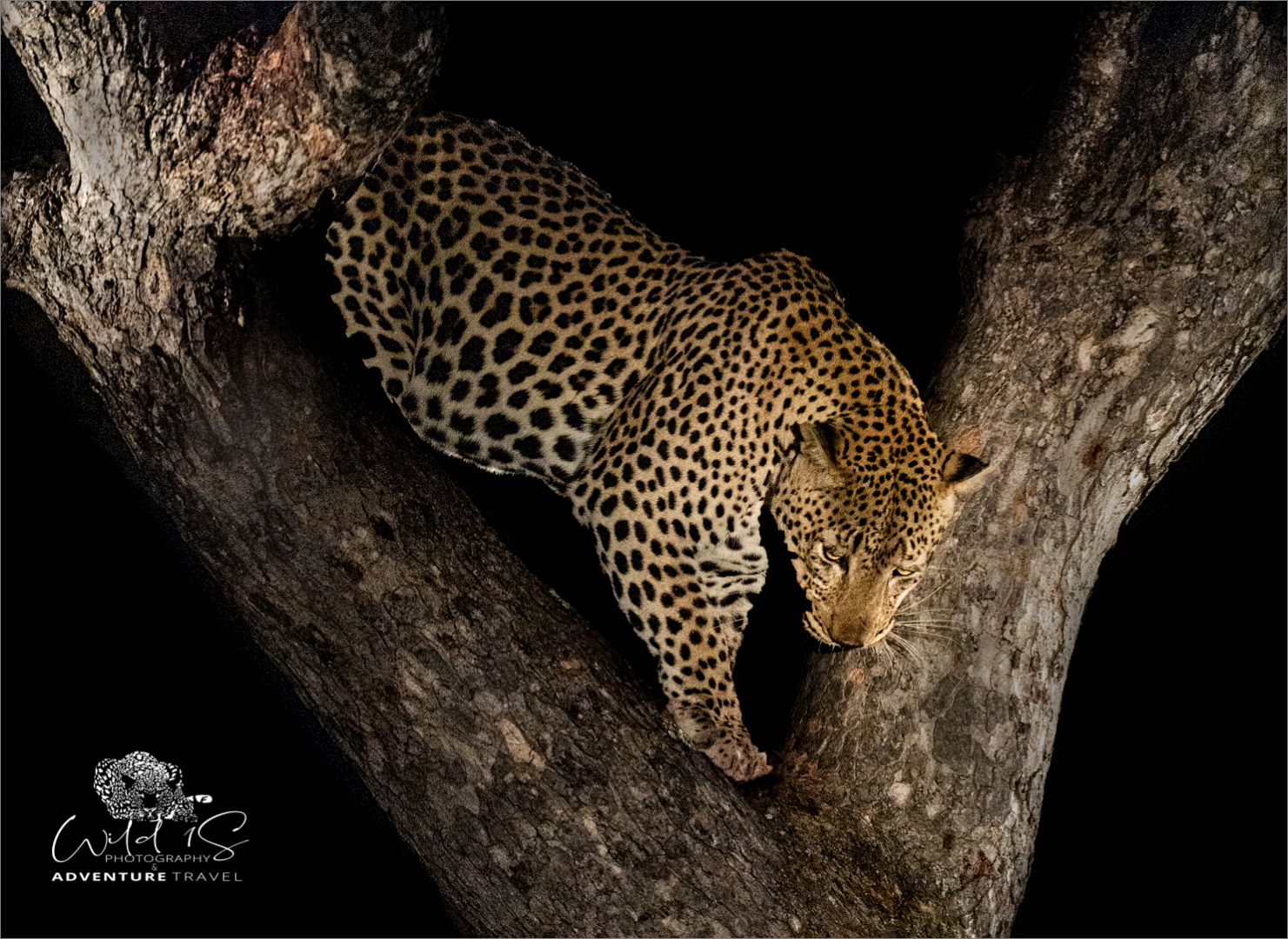 Leaving the tree
The morning of 6 July began before it began, so to speak. While we prepared to leave we heard a bush buck alarm calling and it seemed to be in camp. The immediate thought was that a leopard was near. We had hardly left the lodge in the dark when we located the beautiful Tiyani who immediately got into very thick vegetation. We followed her but eventually lost her. Another vehicle came to assist the search and we eventually had to accept defeat on this one. We looked around for other subjects but did not find anything until we were again told she had been located. After a quick coffee and comfort stop, we went to her and she had clearly decided that she would make us work for any shots of her that we got. We followed her through dense vegetation managing to grab a few shots with only one really great if brief opportunity. The good news is that we left her knowing that she was heading towards the den where she has 2 cubs, which gave rise to our plan to get to her den in the afternoon.
After returning to the lodge, we went on a bush walk. While this has nothing to do with photography, the sights, the sounds, the shared knowledge, the tastes and of course the adrenaline born of the knowledge that you are in big game territory and a bit vulnerable all contribute to making this a very special experience indeed. The afternoon drive can only be said to have "started with a whimper and ended with a bang". We left slightly early having planned (if that is in fact possible on such trips) to try for the leopard cubs and the Talamati lion pride who were said to have entered our traverse. Soon enough we were told that there was no activity at the leopard den and that the pride had turned back, so the plans were no more. We drove, looked, communicated with other vehicles to no avail. Suddenly as we went through a dry river bed, Stella shouted "STOP" and there was a honey badger frantically digging. These animals are shy and too often just leave when they sense a human presence. Not this one, he just carried on, pausing only to move slightly or to pose for us. Totally unreal and of course the cause for much jubilation, and some really great images. We then continued our search and as the light was fading, it all changed. Xidulu, a very pregnant female leopard had been found. We went to her location and there she was on the move. Aided by a spotlight, we spent a long while following her mainly on the dirt road, with a superb drinking interlude, until she took us to what is thought to be the intended den site for her cubs. There we left her and returned to the lodge to a lovely dinner and after some pleasant company, some needed rest.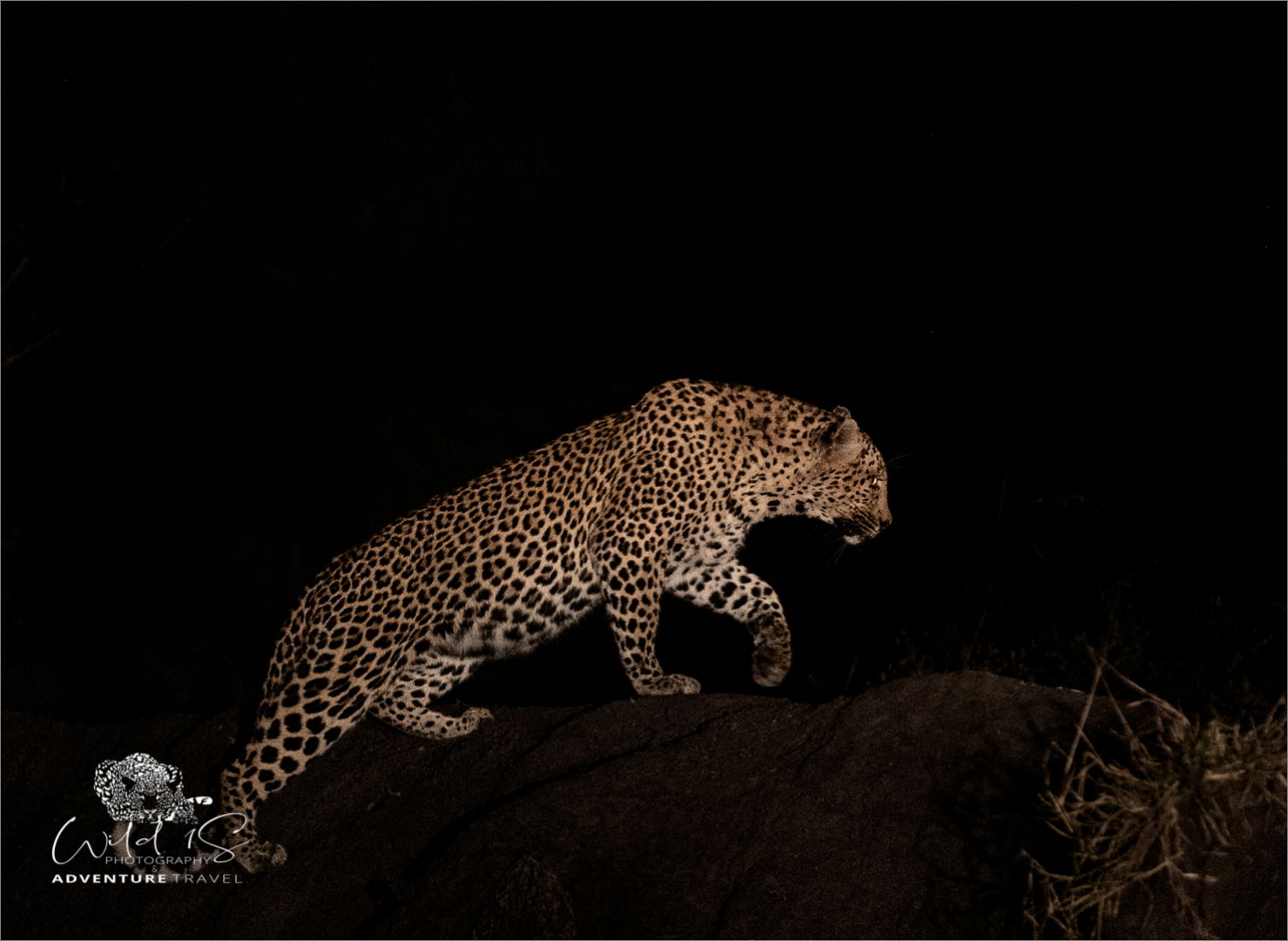 The morning of 7 July began as a really cold morning. We looked up a number of possibilities and came up with nothing despite our best efforts. The news from other vehicles was similar. A tad disappointed but also having gained some perspective that we were dealing with something over which we have limited control, we stopped for a coffee break and leg stretch. During that time, our great ranger, Josh, told us that the leopards cubs and mother were at the den and that we were on standby. Elation was suddenly our friend. We waited for what seemed like a small infinity before we got there and distantly, there were 2 little fluffy energetic bundles with their protective doting mother in the nearby shade. We waited our allocated time, which seemed to pass as a mere second, and then left them, resolving to try to relocate them in the afternoon if they were still around. The afternoon began a touch quiet and suddenly we had a female leopard which we followed endlessly getting some great shots in.
The morning 8 July was rather cold, in fact somewhat bitterly cold when moving, but it had a reward waiting for us for putting up with that. We were hardly out of camp when Josh and Dion wanted to check our boundary for lions or wild dogs....and there they were, all of 14 dogs in the road and to make it better they were active and and moving ever deeper into our traverse. They very suddenly raised a cloud of dust which hung in the crisp morning air like smoke. They had killed a duiker which they devoured in seconds. Their hunt was clearly far from over as they ran madly. We guessed their next move which found them pausing for a drink, an ever increasing clan of hyena's following them in the hope of an easy meal. They then got into energetic interaction which produced awesome photographic activity. We then had to allow another vehicle in so we got out of the sighting, a tad frustrated. After a short while, we went back in, only to come upon frenzied feeding of the hyena's who had managed to wrest the second kill of the day, an impala, from the dogs. We again followed these amazing and energetic animals who seemed to be everywhere and although we missed the actual kill, they had soon killed another impala which they fed on. They then spent some time posing for us. We left for a good breakfast, a workshop session, some rest and lunch and then for our afternoon drive. After a short look around, we found a Verreaux Eagle Owl which was terrific and then the dogs. This time they were resting with hyena in close attendance and so we left them alone. We returned to the den where the cubs were and although brief, rather distant and photographically difficult, we again saw them. We then went to check on a huge male leopard which had made a kill. Sadly by the time we got there, he had left the tree and nearly untouched kill. Josh assured us that this male was unlikely to return......but there he was, spotted by Bruce Reid. In no time, he leapt into the tree where he fed voraciously. Spot lit, we got some great images of this male before we returned to a drink, delicious dinner and some well earned rest.
The morning of 9 July was another cold morning and so looking like Eskimo's, we set out. While looking about, we were told that 3 leopards (1 male and 2 females) and a number of hyena were in the vicinity of that kill, at one stage, all 3 in the same tree. we arrived to be greeted by a female busy eating on a well reduced kill, clearly aware of another. We positioned well and got some great images. We then left the sighting and found the male nearby. He was in no mood to be seen and soon eluded us. We then returned to the area and found the other female who went to the kill and ate her share, again giving us some great shots, after which we returned to a tasty breakfast, some editing and rest. The afternoon was warm as w set out/ Soon enough we had found Tiyani, the beautiful leopard who had two cubs. We did not spend much time with her as she was in dense vegetation which made it quite difficult to create angles from which to photograph her. We looked around and then got news that the cubs were showing themselves intermittently. This was a very strictly controlled sighting in order to protect the cubs location and not to cause them stress with only 1 permitted vehicle viewing at any time and the viewpoints were fairly difficult. We took out turn and after what seemed like forever, during which time we got great light in which to photograoh a spotted hyena drinking, were able to go into position. Those moments can be a bit stressful as you ask yourself questions like "are they visible?", "will they be clear enough for a photo", all while the light falls and they are not permitted to be spotlit. As we took position, there in a tree barely 8m from the road, was a small cub, soundly asleep although in what seemed an awkward position. We were THRILLED, to put it mildly, and shutters were abuzz as they captured this photographically challenging sighting.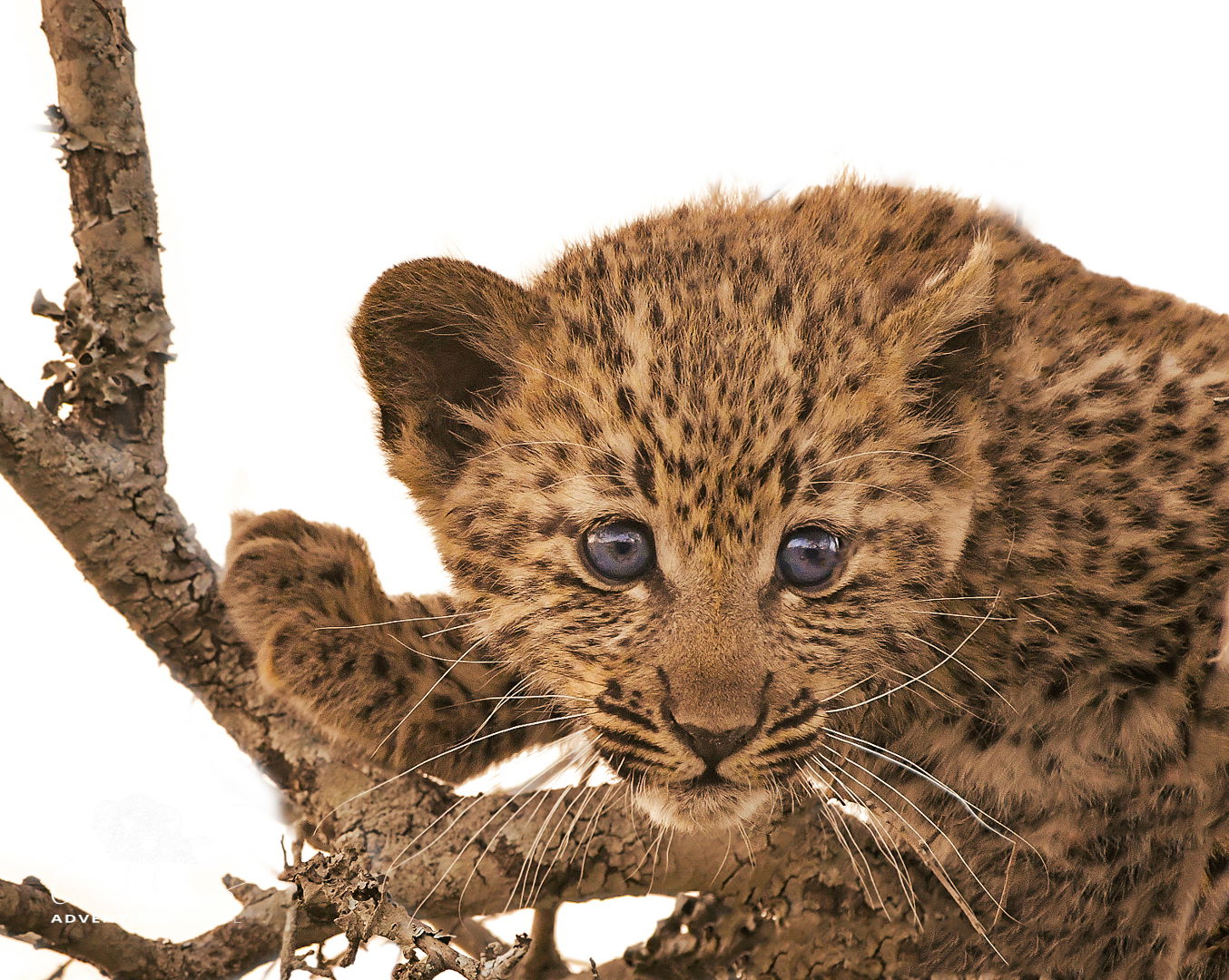 The curious cub.
We them made way for another vehicle and left the sighting, returning to the lodge for our last delicious meal of the adventure. The atmosphere over dinner was quite festive as we had had our best sighting of a leopard cub. This meant that in 15 drives, we had seen leopards every time, on some drives more than once and including the cubs, 9 individuals. Add to that the lion pride in action, the wild dogs hunting, the 4 honey badgers, we had done really well. Are the numbers that important? Not really, the quality of the sighting is far more important but there too we had done really well. We then went to get some needed rest.
Our final morning was a really cold one and we seemed to all look like arctic aliens as we wore our warmest to face the chill of winter on an open vehicle. We sought with great diligence but that morning the sightings we were after seemed to elude us as well as other persons with whom we were in contact. We took this in good spirits as we were so grateful to have seen the quality and quantity we had seen on this amazing adventure. We stopped for a very welcome coffee and comfort after which we searched some more before returning to the Elephant Plains lodge for a sumptuous breakfast before preparing to leave for Antares, the final leg of this great adventure.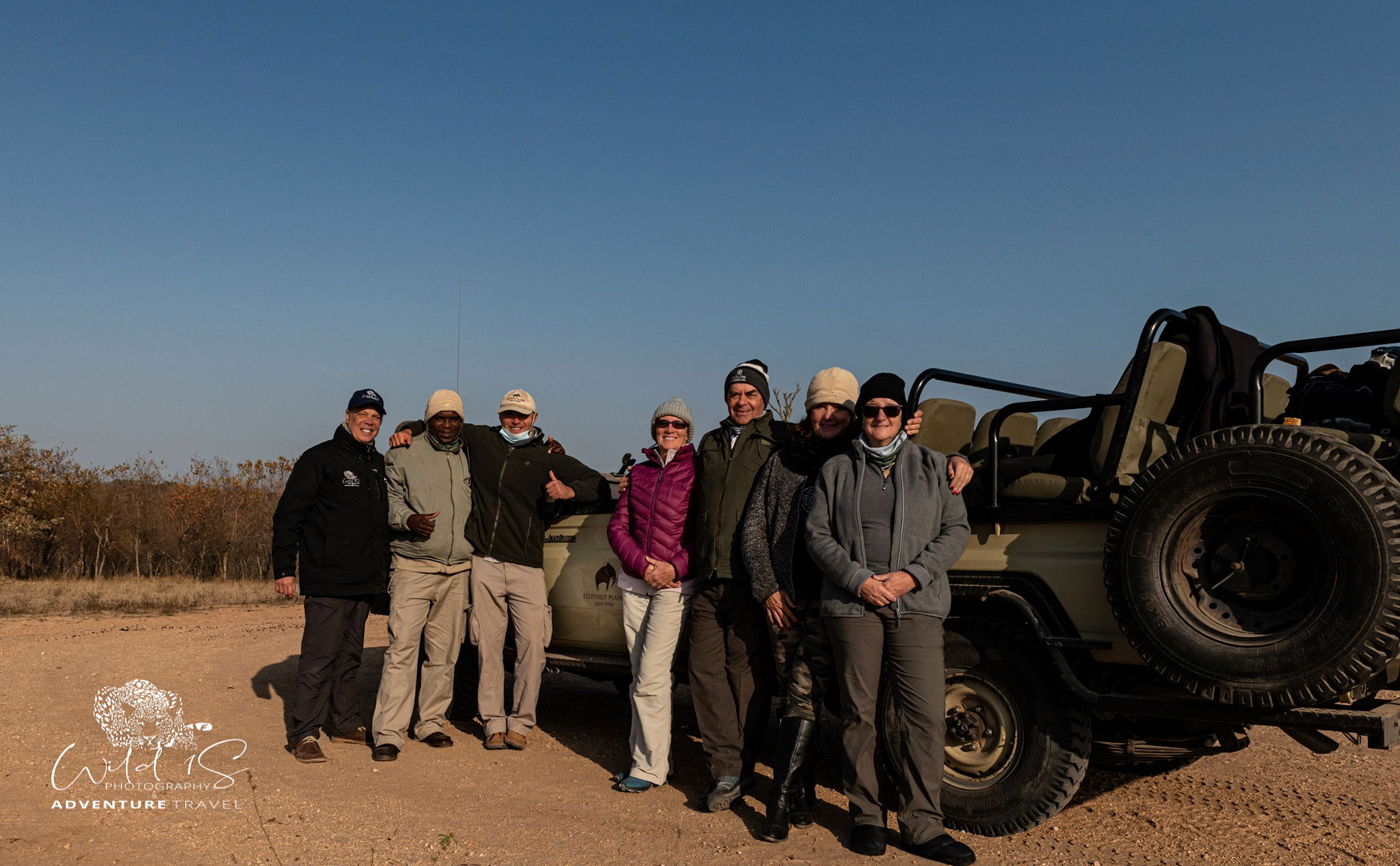 The welcome coffee.
We made our way to Antares, stopping in Hoedspruit to get some supplies on the way/ We got to Antares in the afternoon and after settling in, our wonderful guests were introduced to the Umgede Hide, the place from which some really great sightings and photo opportunities have come since it was opened. Sadly Antares was quiet. Perhaps when this happens it just reminds us that we have next to no control over what we see in the wild. Being out there and using the signs from nature is all we have and sometimes that is just not enough.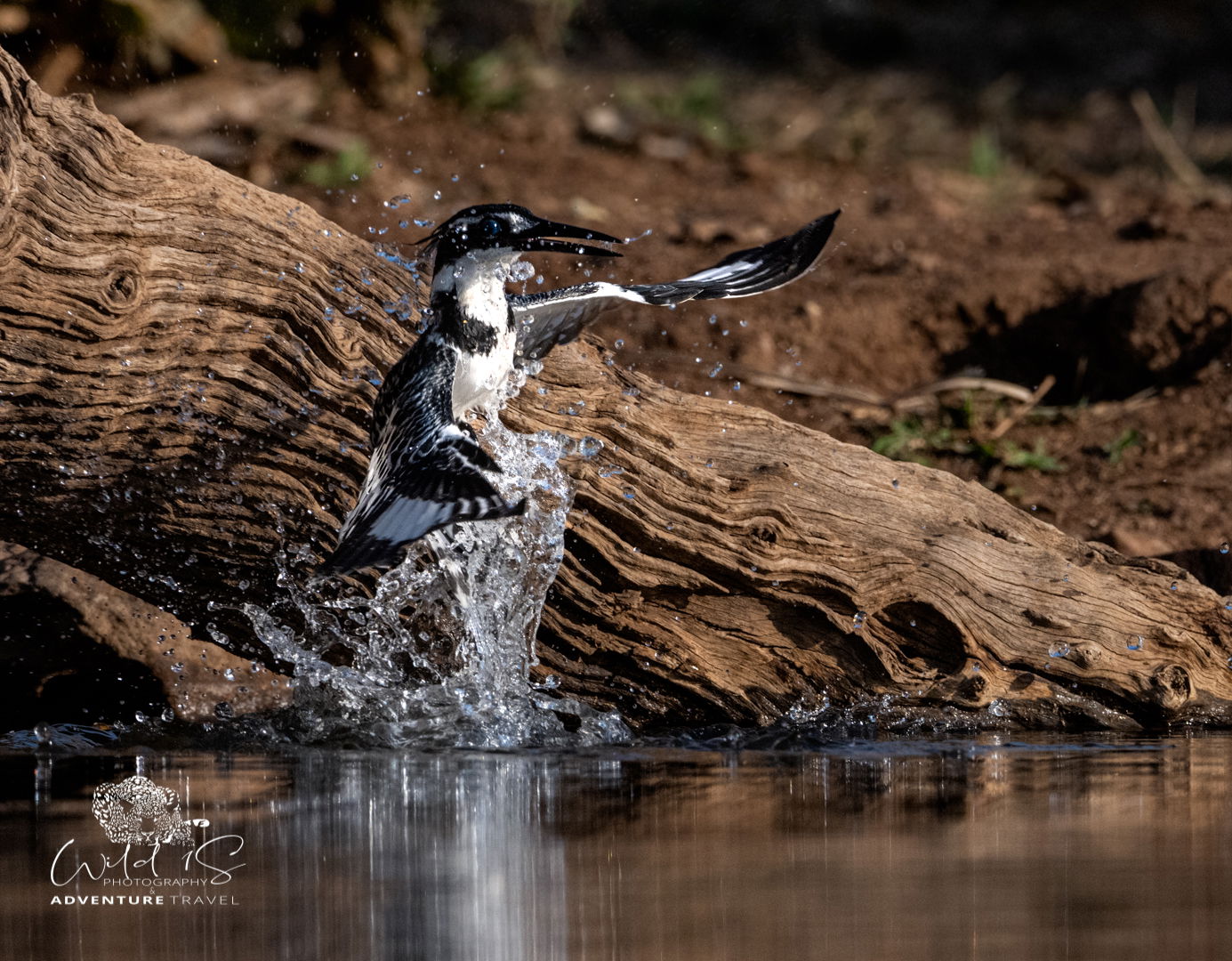 To Emerge.
We sometimes think it sounds repetitive to say this but then again, why hide the truth. We invariably get to travel with amazing people. This adventure was no exception. Yes, we had some from the group missing but we still had a totally fabulous group, making for a fab time in every sense. The laughs, the fun, the photography, the jokes and the sheer pleasure of it all was something to see, what we can really call the Wild1s way of doing adventure.
And then, the really unexpected. We had planned to leave on Monday 12th, stay in the Kruger and get back to KZN on 13th. A mayhem broke out which we have not experienced in our lifetime. This is neither the time or place in which to comment on this other than to say that it is most regrettable and the fruit of poor governing over decades which has just spilt over. We wish you all safety and being as little affected by this as possible and also that it will be over really quickly.
That meant that we went through with our plan and came into the Kruger, staying over at Lower Sabie. We then hard enough to convince us to not return home. We were generously offered (grateful thanks Bruce and Jenny Reid) to stay over at Mjejane Game Reserve, in a totally terrific house, which they arranged at short notice. What a turn this adventure had taken........